Lewis Burke
Lewis Burke
Apprentice Workshop Technician
Lewis Burke is an Apprentice Workshop Technician and has been with the department since September 2017. He is working towards his Level 3 Machinist Apprenticeship and during his time with the department he received the Best Apprentice aged 16-18 Award at the High Sherriff of Oxfordshire Young Engineer Awards.
HR Officer Adam Philip spoke to Lewis recently for National Apprenticeship Week 2021 (8-14 February).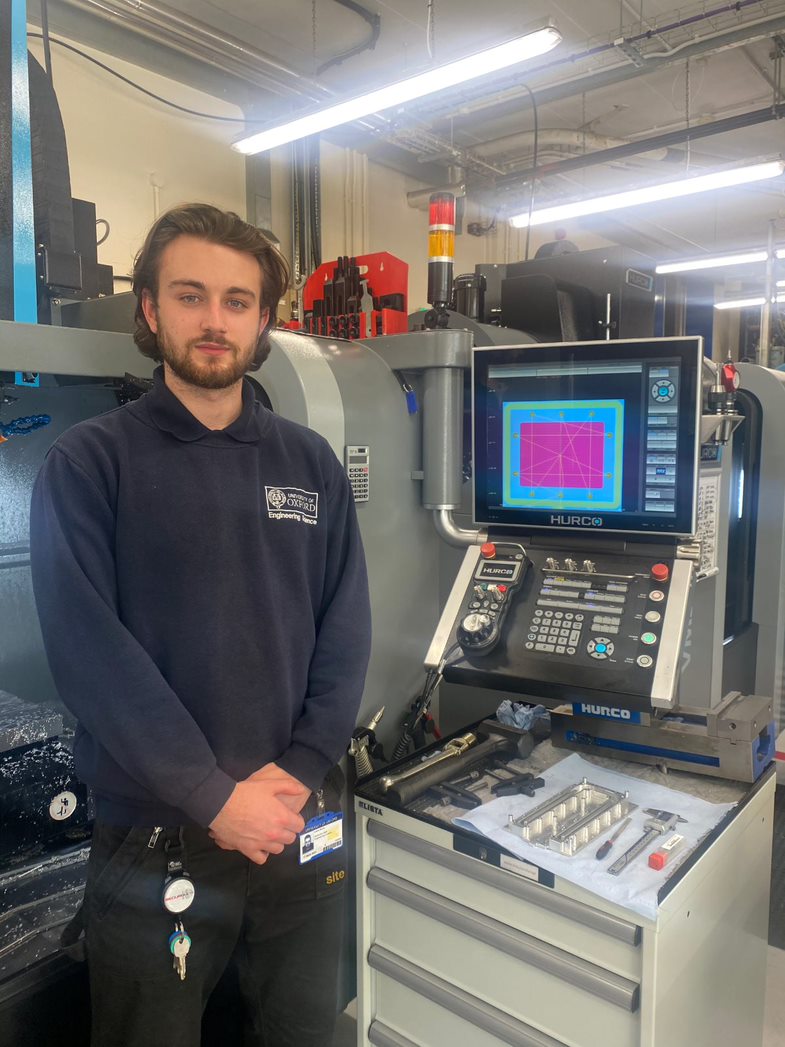 Why did you choose to do an Apprenticeship?
I chose to do an apprenticeship as I thought it was the best route to be able to gain some hands-on experience within the engineering environment; at the same time as gaining the theoretical knowledge.
It also goes without saying that being paid whilst learning was also a big motivational factor for me personally, it allowed me to experience things and reach personal goals that I had set for myself, an example of this was being able to buy my first car.
Finally, I chose to do an apprenticeship because I no longer enjoyed the 'typical' learning environment such as school or college 5 days a week. Although there are still days where I attend college to complete my level 3 qualification, this is often only once a week and the rest of my time is spent at work, therefore I have a better balance which makes the apprenticeship much more enjoyable than a full time college course in my experience.
What have you gained from your Apprenticeship - skills, experience etc.?
There are so many things that I have gained throughout my apprenticeship, job related and personally. The things that I see as the biggest gains so far are:
Gaining knowledge and skills that are job related – During my apprenticeship I have been lucky enough to be surrounded by knowledgeable people that were enthusiastic about helping me to learn. This has come from: people I work with day to day, professors and people that work in other sectors of the department.
Building relationships – Although most people that I work with are older than me, I have made many friends that are a joy to work with as well as to socialise with.
Personal development – Work has helped me to develop confidence as I have always been encouraged to give an input when there are discussions, even if my input isn't correct I have never been made to feel bad for it, it is always explained to me why it would not be right, allowing me to learn.  
What advice would you give to someone who might be thinking about an Apprenticeship?
I personally believe that if you are thinking about doing an apprenticeship, you will have no regrets in doing so. I can only speak from my experience; working for a reputable company/organisation that are willing to invest in you, will ensure that you thrive in what you are passionate about.
The main factors to having a successful apprenticeship are simply to have a good working attitude and to be able to stay on top of work that may be set as part of the course.
What is the best thing about working for the Department of Engineering Science?
Once again there are a long list of advantages of working for the Department of Engineering Science that stand out to me. However, I think the biggest highlight is the people. Of course, there are the benefits of funding, work socials etc. However, none of this would be possible without the people behind it.
There will always be hurdles in the way at some point of an apprenticeship, but with the people around me they have been easily overcome. As well as this I believe that working with people that have positive attitudes no matter the situation makes the department a very enjoyable place to work, which to me personally is the most important factor.
About Apprenticeships
The University and department remain committed to providing exciting and life-changing apprenticeships, where apprentices of all ages train alongside experienced staff, developing their professional skills whilst growing the university's workforce talent. 
Find out about University of Oxford apprenticeships.
If you are interested in undertaking an apprenticeship with the Department of Engineering Science, they will be advertised on our Current Vacancies page.