48th Maurice Lubbock Memorial Lecture: Dr Anita Sengupta
Location
Oxford Museum of Natural History
Date & Time
Friday 24 Jun 2022 - Wednesday 22 Jun 2022
Availability
Alumni of the Department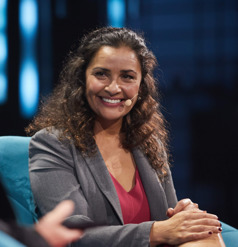 Photo by Jimmy Hamelin
Dr Anita Sengupta - The Future of Transportation
CEO/Founder, Hydroplane Ltd
Professor of Astronautical Engineering, University of Southern California
The year is 2100. You exit your Hyperloop after a 5-minute journey from Oxford to London, walk towards the vertiport and board the autonomous air-taxi. You have an unobstructed view of the London Eye... the sky and the River Thames are blue. No more images of smokestacks nor beeping of horns that now belong in the annals of history e-books.
Transportation has always been fundamental to a utopian urban scape where new technology has enabled. However, we are now entering an era of technology with a purpose: to mitigate climate change. Anthropogenic carbon emissions contribute a sizable percentage (16%) from transport, and the remainder industrial and residential use cases. When we consider the path to decarbonizing transportation, reliance on hydrocarbons as the energy source and carrier are key. Synergies are essential between stationary, green energy production, distribution, and end-use in mobility applications.
Dr Sengupta will review the evolutionary path to a sustainable future of transportation - starting on land, transitioning to the air and beyond into interplanetary space. By introducing game-changing technologies we can increase capacity, enhance energy efficiency, and shrink our carbon footprint. Dr Sengupta will discuss how Space-Age tech, coupled to the VC funded innovation environment, is enabling the revolution in green transportation. She will share this in the context of her real-world engineering projects - from the world's first Hyperloop in Las Vegas, Nevada to her company Hydroplane developing a hydrogen-powered aircraft, in addition to her research on entry systems that could land the first humans on the surface of the planet Mars.
Biography
Dr Anita Sengupta is an aerospace engineer, instrument rated pilot, rocket scientist, and veteran of the space program. She has developed technologies that have enabled the exploration of Mars, asteroids, and deep space for 20 years. Her career began with launch vehicles and communication satellites at Boeing Space and Communications. She then worked for NASA for 16 years where her engineering projects included her PhD research on developing the ion propulsion system for the Dawn Mission (currently in the main asteroid belt), the supersonic parachute that landed the Curiosity rover on Mars, and the Cold Atom Laboratory an atomic physics facility on board the International Space Station.
After leaving NASA she moved into the high-tech transportation sector and led the development of the Hyperloop as Senior Vice President of Systems Engineering at Virgin Hyperloop, a ground based transportation system that operates under vacuum and at jet aircraft speeds.
Her most recent entrepreneurial venture is as founder/CEO of Hydroplane Ltd., which is developing hydrogen fuel cell power plant technology for carbon emission free aviation, marine, and ground vehicles. Hydroplane is an awardee of an US Air Force Agility Prime contract to develop the novel hydrogen fuel cell for a range of commercial and governmental use cases.
Dr Sengupta is also Professor of Astronautical engineering at the University of Southern California where she is researching technologies for the human exploration of Mars, earth re-entry vehicles, and boom-less supersonic flight.
Dr Sengupta received her MS and PhD in Aerospace Engineering from the University of Southern California. In her spare time, she is a Captain in the Civil Air Patrol, member of the Caltech flying club, sport motorcyclist, scuba diver, mountain biker, professional pubic speaker, and science communicator.