Research
Projects
Research undertaken in the INS Lab covers a broad range of theories and technologies related to information, communication systems, and network science.  Specific topics include wireless network analysis and design, graph compression, modulation, large array theory, and applications of information and communication theory to electro-fluidic systems.  Information about recent activities can be found below.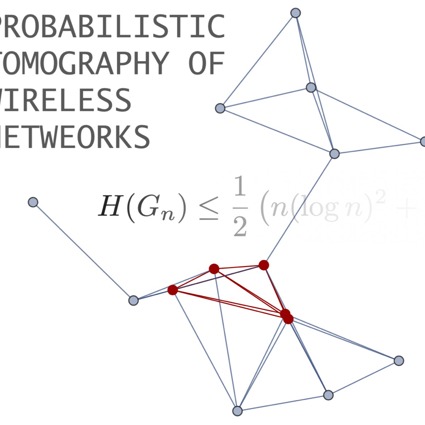 Probabilistic Tomography of Wireless Networks
This is an EPSRC-funded project aimed at developing optimal methods of actively discovering or passively inferring network topologies and structures in wireless systems.
Topology Discovery in Wireless Networks via Spatial Graph Entropy (US ARO)
"The formalism of spatial graph entropy allows one to characterise the minimum description length of a network structure or topology. This project aims to utilise this newly developed mathematical framework to develop more efficient topology discovery algorithms for use in ad hoc networks."
Advanced Modulation for Spectrally Efficient Communication (EPSRC IAA)
"OFDM employing index modulation (IM) based on a discrete cosine transform have been shown to provide significant spectral efficiency advantages relative to conventional benchmarks. In this impact-focused project, the theoretical predictions will be tested by integrating these new IM techniques with a state-of-the-art proprietary software radio supplied by a project partner." Details are here.
Spatially Embedded Networks (EPSRC)
"Spatially Embedded Networks is an EPSRC-funded project aimed at creating new analytical techniques and models for graphs embedded within a bounding geometry. The project is closely linked to the exciting and rapidly evolving ICT domain of wireless networks, and as such will be informed by and aimed at industrial applications related to the Internet of Things, inter-vehicular networks, next-generation Wi-Fi and 5G systems."
NQIT - Networked Quantum Information Technologies (EPSRC)
"The NQIT Hub, part of the UK National Quantum Technology Programme, is led by the University of Oxford and involves 29 globally leading quantum centres and major companies, all working together to realise an entirely new technology sector. The Hub's focus is on systems that can connect together to form flexible, scalable solutions for diverse applications. These powerful principles of flexibility and scalability have caused the network to become the single most important concept in modern information technology, with incalculable beneficial impacts on society."