01 Jul 2016
Engineering Science students are Boat Race winners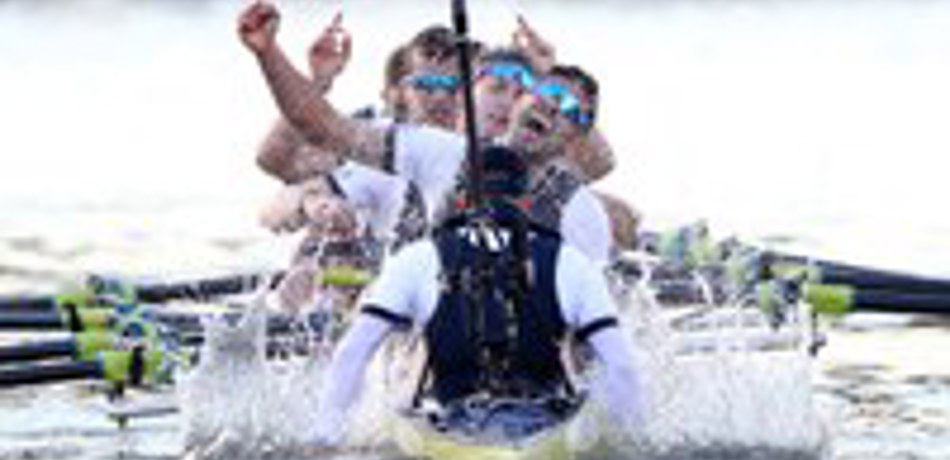 Congratulations to Department of Engineering Science students, James Cook (Keble College) and Samuel Collier (New College), who were part of this year's winning men's Boat Race team. The Boat Race is one of the oldest and most iconic events in the sporting calendar. A reported 400,000 people watched the 163rd Boat Race along the banks of the River Thames in London.
Sam said, 'It was a simply amazing day and the noise on the start was just deafening. We had had a bit of a rollercoaster of a year but had been building momentum all the way up to the race, and on the day we did pretty much did exactly what we said we wanted to do, start strong and then just race the boat next to us from there. Credit to them, they pushed us all the way, but thankfully we had enough left in hand to finish the race off and get the river running dark blue again.
'The support from everyone associated with the campaign has been immense. Particularly for me the Department and my college tutors have been fantastic, this is my third year as part of the Boat Club and I feel very lucky and am extremely grateful that I have been able to be a part of the club alongside my studies'.
James said: 'Training for the Boat Race requires six hours a day six days a week, which made it a tough decision to return. However, the opportunity to win with my brother was extremely special and I am so relieved the hard work paid off. I started my rowing career aged 11 and first got into a boat with my brother, so it was a fitting way to complete it with him next to me.
'Having won and lost in the last two years gave me the experience to navigate through a particularly uncertain season, which had many setbacks. Cambridge were an excellent crew and kept us honest every stroke for 16 minutes and 59 seconds.
'My supervisors, Clive Siviour and Antoine Jerusalem, have been brilliant in giving me the flexibility to juggle both academic and sporting requirements. I look forward to contributing strongly to my research field till I complete my course.'
Both James and Sam are studying at the Department of Engineering Science. James is studying for a DPhil in 'impact of cellular solids on differential geometry' and Sam is a third year undergraduate.