Raaghav studied our undergraduate Engineering Science degree, at Brasenose College, from 2016 to 2020 and now works in the construction industry, at Mace. We spoke to Raaghav about studying at Oxford and what a career in Engineering has been like so far.
Tell us about your time at Oxford
The first year provided good transition to college life with the Engineering course in particular offering plenty of opportunities to meet fellow peers from other colleges. The second and third years built on the knowledge and having settled into life at Oxford, they were great times to explore what the city and university had to offer. The final year was short-lived due to the pandemic, but still proved to be an enjoyable time for all the students that remained. I look back fondly at my time at Oxford and left with many good memories and friendships.
What inspired you to take up Engineering?
I was always enthusiastic about Mathematics and Physics. I enjoyed and excelled in the practical aspects – not overly keen on pursuing a pure Maths or pure Physics course, I opted for Engineering which provides the balance of core theory applied in a practical environment.
Engineering is a rapidly evolving field and there is always a chance to contribute innovative ideas to improve processes
How did you get into your current job?
I re-joined my current company's graduate programme having previously completed a 10-week summer placement after the second year of the course. This is an ideal time to explore career options and figure out your specialist topics for third year and the Master's year.
In terms of how I got the initial placement, it was simply a numbers game which includes putting together a strong CV that reflects your interests and achievements, applying to as many roles that are of interest and preparing well for the tests and interviews. The more roles you apply to, the greater the chance of getting through to the next stage and not only getting the job, but also in the process gaining invaluable experience of how best to approach interviews and judgement tests.
You are involved in the Equality Diversity Inclusion Network (EDIN) at work, would you tell us more about that?
Yes that's right. I am an ally of EDIN at Mace which aims to create an inclusive culture across the business where everyone can be themselves at work every day.
EDIN has been set up to bring together colleagues with the priority being to raise awareness of the challenges faced by different ethnic communities and nationalities, to provide support and find solutions as well as celebrate different cultures in order to create a progressive workforce.
The network tackles key issues such as the gender pay gap, talent recruitment from diverse backgrounds and inclusive leadership within the company. On a more frequent basis, the network hosts coffee meetings to bring to light issues around the world and acts as a panel to discuss personal or general issues.
What is an average day like for you?
I am part of a team that is managing the construction of a high-rise building in the City of London. I help manage the flow of design information from the architects to the sub-contractors who eventually build the structure. Typically, half the day is spent on the desk reviewing drawings, tracking design changes, and assessing the risk and impact to programme and cost. The other half is spent on the construction site conducting inspections of finished works, ensuring high quality is maintained and the structure is built to the detail and design in the drawings. Of course, a big part of of project management also includes chairing meetings, taking minutes, and dealing with issues as and when they arise.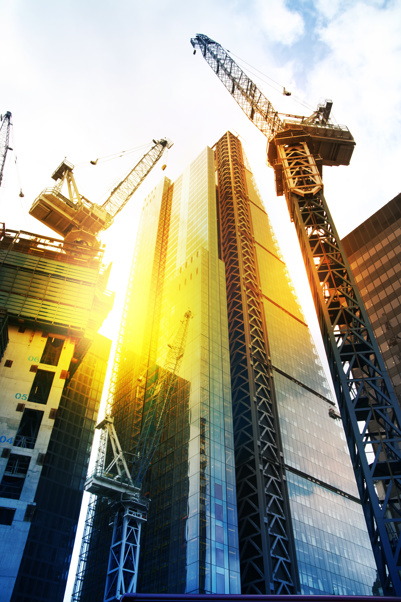 Raaghav works on managing the construction of high-rise buildings in London
How has your degree helped you?
The biggest advantage of the Oxford degree is the two years of general engineering – this allowed me to experience all aspects before deciding on my specialism. The course provides a broad foundation of theoretical knowledge as well as interpersonal skills. Personally, the engineering knowledge is useful in reviewing designs and managing the build sequence of structures while skills such as time management and communication help me daily in meeting critical deadlines and delivering the project to the programme.
I want to contribute to delivering a variety of structures, buildings, bridges etc. which help shape the infrastructure of cities
What excites you about engineering?
As touched on earlier, the practical side of engineering is extremely exciting. In the construction sector, it is extremely rewarding seeing designs, plans and calculations being transformed into real-life structures which bring value to people.
The other aspect that is exciting is that engineering is a rapidly evolving field and there is always a chance to contribute innovative ideas to improve processes. With construction, there is a growing focus on sustainable but efficient construction methods, and everyone can play a part to bring about change.
What are your visions for the future, what are the next steps?
My vision is simple in that I want to contribute to delivering a variety of structures, buildings, bridges etc. which help shape the infrastructure of cities. And the long-term aim is to lead my own construction project! The next steps though are to continue to work my way up in the business and grasp opportunities along the way to improve myself as well as the construction sector.
Final thoughts
If you need any more convincing about Oxford Engineering or a career in construction, please feel free to reach out to me and I will be happy to help!
Improving bioreactors used in stem cell therapies
Biomedical Engineering