47th Maurice Lubbock Memorial Lecture: Dr Anita Sengupta
Location
Oxford Museum of Natural History
Date & Time
Friday 24 Jun 2022 3.00pm - Friday 24 Jun 2022 7.15pm
This event will also be livestreamed from 3pm: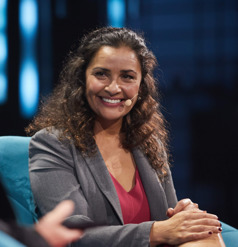 Dr Anita Sengupta - The Future of Transportation
CEO/Founder, Hydroplane Ltd
Professor of Astronautical Engineering, University of Southern California
The year is 2100. You exit your Hyperloop after a 5-minute journey from Oxford to London, walk towards the vertiport and board the autonomous air-taxi. You have an unobstructed view of the London Eye... the sky and the River Thames are blue. No more images of smokestacks nor beeping of horns that now belong in the annals of history e-books.
Transportation has always been fundamental to a utopian urban scape where new technology has enabled. However, we are now entering an era of technology with a purpose: to mitigate climate change. Anthropogenic carbon emissions contribute a sizable percentage (16%) from transport, and the remainder industrial and residential use cases. When we consider the path to decarbonizing transportation, reliance on hydrocarbons as the energy source and carrier are key. Synergies are essential between stationary, green energy production, distribution, and end-use in mobility applications.
Dr Sengupta will review the evolutionary path to a sustainable future of transportation - starting on land, transitioning to the air and beyond into interplanetary space. By introducing game-changing technologies we can increase capacity, enhance energy efficiency, and shrink our carbon footprint. Dr Sengupta will discuss how Space-Age tech, coupled to the VC funded innovation environment, is enabling the revolution in green transportation. She will share this in the context of her real-world engineering projects - from the world's first Hyperloop in Las Vegas, Nevada to her company Hydroplane developing a hydrogen-powered aircraft, in addition to her research on entry systems that could land the first humans on the surface of the planet Mars.
Biography
Dr Anita Sengupta is an aerospace engineer, instrument rated pilot, rocket scientist, and veteran of the space program. She has developed technologies that have enabled the exploration of Mars, asteroids, and deep space for 20 years. Her career began with launch vehicles and communication satellites at Boeing Space and Communications. She then worked for NASA for 16 years where her engineering projects included her PhD research on developing the ion propulsion system for the Dawn Mission (currently in the main asteroid belt), the supersonic parachute that landed the Curiosity rover on Mars, and the Cold Atom Laboratory an atomic physics facility on board the International Space Station.
After leaving NASA she moved into the high-tech transportation sector and led the development of the Hyperloop as Senior Vice President of Systems Engineering at Virgin Hyperloop, a ground based transportation system that operates under vacuum and at jet aircraft speeds.
Her most recent entrepreneurial venture is as founder/CEO of Hydroplane Ltd., which is developing hydrogen fuel cell power plant technology for carbon emission free aviation, marine, and ground vehicles. Hydroplane is an awardee of an US Air Force Agility Prime contract to develop the novel hydrogen fuel cell for a range of commercial and governmental use cases.
Dr Sengupta is also Professor of Astronautical engineering at the University of Southern California where she is researching technologies for the human exploration of Mars, earth re-entry vehicles, and boom-less supersonic flight.
Dr Sengupta received her MS and PhD in Aerospace Engineering from the University of Southern California. In her spare time, she is a Captain in the Civil Air Patrol, member of the Caltech flying club, sport motorcyclist, scuba diver, mountain biker, professional pubic speaker, and science communicator.
Additional talks
There will also be talks from three Engineering science academics on the theme of The Future of Transportation:
Professor Peter Ireland: Green aviation
The aerospace industry is developing new solutions to address climate change. Future aircraft propulsion systems will combine electrical energy storage (batteries) with electric motor driven fans for all but the longest flights. But thrust for the latter will be provided by carbon free fuels (e.g. liquid hydrogen) consumed in fuel cells or gas turbines. All of these propulsion systems will need new Thermal Systems to effectively manage the heat produced in the motors, power electronics, batteries, cables and highly compact gas turbines. Some heat can be transferred to the fuel (e.g. liquid hydrogen) when fuel is used, but the rest of the heat must be passed to the atmosphere through fluid to air heat exchangers. The Oxford Thermofluids Institute is working with its partners to research the technologies needed for heat management and cooling in sustainable aviation.
Professor Kostas Margellos: Energy and transportation operations in smart cities
Societal and economical considerations, together with the use of a wide range of digital technologies and advanced electronic and sensoring capabilities, have led to the development of the so called smart cities. Smart cities include, among others, a variety of service providers and users being connected while interacting with each other in real time to share resources. This has led to a new a paradigm in energy and mobility operations, involving networked "ecosystems" with high levels of autonomy. How to coordinate actions in smart cities, while ensuring a provably safe, efficient and uninterrupted operation? In this talk we attempt to address this question at a foundational level, focusing on the smart city "mathematics" that are required to make future cities "smart". In particular, we show that a synergy of algorithmic tools from (i) distributed computation; (ii) game theory; and (iii) artificial intelligence and statistical learning constitutes the backbone for intelligent and sustainable operation of smart cities.
Professor Martin Davy: Green Internal Combustion Engines

Programme
Registration from 14.30 (Book your place)
Tea and Coffee will be available prior to the lectures and keynote. We will also be showcasing posters from the Department of Engineering Science 4th Year Student's final projects.
Mini lectures
15.00:   Energy and transportation operations in smart cities
Professor Kostas Margellos, Associate Professor of Engineering Science (Official Fellow, Reuben College, Lecturer at Worcester College)
15.30:   Green Internal Combustion Engines
Professor Martin Davy, Associate Professor of Engineering Science (Fellow of Exeter College)
16.00:   Green Aviation
Professor Peter Ireland, Director, Oxford Thermofluids Institute, Donald Schultz Professor of Turbomachinery (Fellow of St Catherine's College)
16.30:  Presentation of 4th Year Project Poster Winner Certificates
Refreshments
17:00: Lubbock Lecture

Welcome from Professor Ronald Roy
Introduction to Lord Avebury – Professor Dominic O'Brien
Keynote Introduction – Professor Ronald Roy
The Future of Transportation
Dr Anita Sengupta 
CEO Hydroplane Ltd. Research Professor of Astronautics, University of Southern California
18:15:   Drinks reception – main gallery
19:15:   Close
Photo by Jimmy Hamelin