07 Jan 2019
2018 Review, from our Institutes
The Department has five Institutes which lead the way for research and collaboration in different areas of engineering, including biomedical, thermofluids and robotics - here they talk about their highlights from 2018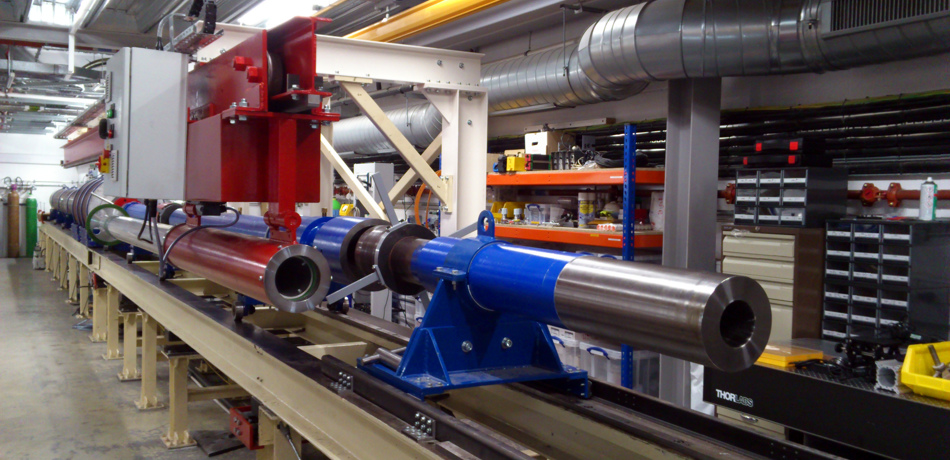 a year of spectacular growth
2018 was a year of spectacular growth in the ORI. We now number seven academics and nearly 80 members. Our robotics interests span from the ocean, through fusion reactor inspection, quadrupeds, drones, artificial skin, home robotics, manipulation, long-term planning and super-human machine perception.  It feels busy.
We are massively fortunate to have integrated premises in which to run the 6 labs of ORI - in the newly refreshed George Building at 23 Banbury Road, opposite the Thom building.  Moreover, in 2019 we will be moving into a fabulous new and connected experimental space in the newly-constructed Keble College H.B. Allen Centre. Here we will house all of our equipment from the walking machines, the driverless cars and a farm of 'arms' soon to be skinned (sounds more macabre than it is!).
Academically in 2018 we also had a great year. We published just over one paper every week, raised over £3M in research income, forged five new industrial partnerships, and began 2 major Industrial Strategy Funded research programmes.
Our mission continues to be to "demonstrate solutions for the hard problems that stand between us and the large-scale ubiquitous deployment of robots". This takes us not only in thrilling research directions but also to remarkable places. Indeed, 2018 saw an ORI team take a vehicle up a volcano in Iceland. We were seeking the worst weather conditions in Europe but instead found the clearest skies in 60 years. A metaphor for what is to come perhaps.
most successful Digital Humanities at Oxford Summer School yet
Oxford e-Research Centre's expertise in digital research methods has enabled the Centre to continue its work across traditional academic disciplinary boundaries bringing together significant research capabilities from across the University.
August 2017 marked the beginning of the Centre's integration into Engineering Science. During 2018 we continued to build on this with our academics now teaching undergraduate courses, supervising graduate students and sitting on various panels and committees within Engineering Science.
In May 2018 we launched a new Coursework Module in Scientific and High Performance Computing and a new MSc in Energy Systems will accept its first students in 2019.
The Centre was awarded new grants from EPSRC, STFC, NIH, EU/H2020 and Wellcome Trust. We co-lead JADE, A £3 million supercomputer that is the UKs national resource for machine learning and artificial intelligence applications.
This year saw progression of several software platforms, including developing open source ISA tools which now power Nature's data journal "Scientific Data". The Music Encoding and Linked Data software platform has launched as an innovative model for combining multimedia resources.
Throughout 2018, the Centre has continued its industrial engagement with many companies; from Abbey Road Studios and British Gas to NVIDIA and ARM, collaborated widely with many prestigious institutions and has continued to partner with departments across the University of Oxford.
The Centre has also been involved in many high profile research projects, publications, keynotes and presentations. Oxford's role in the national 'Internet of Things' (IoT) research hub has led to the chairing of a major public event, the "Living in the Internet of Things" conference, and the launch of an IoT journal. Successful research on anomaly detection has led to several patent applications on the methods developed.
In July 2018, the Centre hosted its most successful Digital Humanities at Oxford Summer School, with over 220 attendees from around the world.
creating a data lake essential for research
2018 saw AI and machine learning become even more prominent in the media. Our keen focus on principled AI and machine learning within the OMI means that we can follow these advances, develop and innovate new ones and work to make them deployable. Our ability to produce world-leading science requires a commitment to bring talent into the OMI. We are delighted to have appointed not only three new faculty (two senior researchers and a departmental lecturer), but also to welcome four postdoctoral researchers into the institute, to host ten interns and welcome twelve new graduate students to work on various aspects of machine learning in finance.
We worked over the year to develop in-house hardware and software to accelerate our research. Most notably, our IT team created a rapid development infrastructure, co-located with our data servers. Allied with hardware capability, we spent time creating new software to distil the data feeds that come into the OMI, creating a data lake of derived measures essential for research. During the summer of 2018 we pioneered the development of a trade simulator. This enable us to test, for the first time, the effectiveness of algorithmic trading strategies in a digital twin of a live financial market. Further, it allows different algorithms to compete in the marketplace, paving the way to realistic multi-agent simulations.
2018 saw our links throughout the University strengthen, welcoming new members from Engineering Science, Computer Science, the Saïd Business School and the department of Economics. Our members published broadly, producing innovative work at the heart of finance to novel algorithms for machine learning on quantum computers. OMI members delivered keynote seminars and took part in policy workshops at the heart of government and the finance industry. Our internal termly workshops continued to be very well supported, building outreach and collaboration across the University.
Europe's fastest hypersonic wind tunnel is now operational
The Oxford Thermofluids Institute is a world leader in the field of turbomachinery, energy, microfluidics and hypersonic flow research with current grants exceeding £35 million.  We are very proud of our long-term partnerships with Rolls Royce, the EPSRC, the Aerospace Technology Institute, Mitsubishi Heavy Industries and Siemens, which enable us to deliver impactful research. 
During 2018, the Institute continued to grow, with 4 new faculty members and double the number of staff and students relative to when we opened the laboratory in 2010. Our students and researchers continued to win prizes. For example, DPhil student Alexander Bucknell won a prestigious student paper award from the American Institute for Aeronautics and Aerospace (AIAA) for his work on ice crystals forming on jet engines at altitude, in collaboration with Rolls-Royce.
A testament to our success in attracting the best staff and students is the trajectory of PhD student, and Rhodes Scholar, Gladys Ngetich, who was identified as a Rare Rising Star 2018 and also won an ASME IGTI Young Engineer Turbo Expo Participation Award.  The Rare Rising Stars programme is designed to recognise and celebrate the achievements of the best black students in the UK.
Europe's fastest hypersonic wind tunnel, our T6 Stalker Tunnel, became operational and capable of producing test flows in excess of 20km per second. The facility, developed in collaboration with the University of Queensland, is unique in allowing hypervelocity ground testing not previously possible in any other European facilities.  The tunnel, developed by Prof Matt McGilvray, will be used to research the aerothermal challenges of cooling space ships as they re-enter the earth's atmosphere.
This year, IotaSciences, one of our 5 company spinouts since 2012, won the highly competitive New Product Award at the Society for Laboratory and Automation Screening conference in the USA.  The award was for a portable benchtop single-cell instrument, invented by Prof Ed Walsh and his team, which creates microscopic liquid chambers and deposits single cells into them. The technology promises to have a range of medical applications including genome editing and the establishment of novel cellular disease models.
In September 2018, we held an EPSRC-funded Art and Science outreach event in partnership with Imperial, Birmingham and Southampton universities and with local artists. The event engaged Year 10 -11 art students in the latest developments in hypersonic flight and future jet engines.
a breakthrough in more precisely targeting drugs to cancers
The IBME, based on the Old Road medical campus in Oxford, offers a world-class venue for biomedical engineering research and postgraduate research training where engineers and clinicians work together on diagnosis and treatment of major diseases and conditions. Some of the IBME's highlights for 2018 include:
Our ongoing work on normothermic machine perfusion was featured on the front cover of Nature when the journal reported on the first randomized trial to compare conventional cold storage to warm machine perfusion in organ transplantation (see page x).
IBME and other Oxford researchers made a breakthrough in more precisely targeting drugs to cancers. Using ultrasound and lipid drug carriers (liposomes), a multi-disciplinary team of biomedical engineers and medical experts have developed a new technology being used in humans for the first time, with ultrasound remotely triggering and enhancing the delivery of a cancer drug to the tumour.
The Rosalind Franklin Institute, a National Centre of Excellence, was set up in 2018 to tackle many of the key challenges in the health and life sciences. The IBME's Professor Eleanor Stride will lead one of the initial projects, creating the world's most advanced ultra-fast video camera. The camera will help researchers develop techniques using sound and light to detect and treat diseases including some of the most fatal forms of cancer.
Our students continue to win prestigious prizes and awards. IBME doctoral student Glen Wright Colopy (along with Departmental junior research fellow Dr. Tingting Zhu) was recognised for work identifying patient-specific trajectories in haemodialysis, at the IEEE Biomedical & Health Informatics Conference (BHI) in March in Las Vegas. Postgraduate student Bo Zhang was one of 17 recipients of the coveted Canadian Centenial Scholarship, which recognises academic excellence. Undergraduate student Sagar Vaze won the Qualcomm-sponsored prize at leading medical imaging conference MICCAI for Best Biomedical Engineering 4th Year Project. Sagar is developing efficient machine learning algorithms to analyse images on mobile devices, allowing automated ultrasound analysis in remote locations.
We are delighted to be taking part in Oxford's first overseas research centre for physical sciences and engineering, the recently-opened Oxford-Suzhou Centre for Advanced Research in China. Professor Zhanfeng Cui and Prof Cathy Ye (Regenerative medical technologies) and Professor David Clifton (Smart healthcare technologies) are among the 12 Oxford Academics who will lead initial research at the Centre.