29 Jul 2019
A UNIQ opportunity for potential students at our summer school
A group of bright young minds joined us for an intensive week of engineering tuition, as they considered their post A-Level options and discovered what Oxford could mean for them.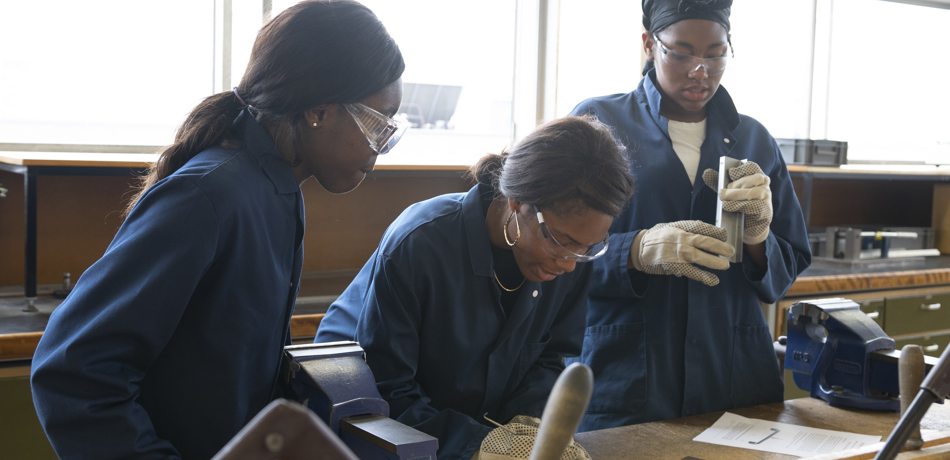 The Department played host to a group of 46 sixth-formers, keen to get a sense of the range of opportunities on offer within Engineering Science. All aged 17, applicants were selected according to their academic achievements, with a preference for those from areas classified as being of low-economic wealth, or where university attendance is low.
Currently in the process of choosing what to study at university and where they plan to apply to, these young people jumped at the chance to get an idea of what it's really like to be a student here.
The students joined us from around the UK, travelling here to spend a week-long stay in the historic surroundings of four Oxford colleges (Wadham, Brasenose, Hertford and Lincoln),
Libby McGowan, Access and Alumni Officer in the Department, spent the week accompanying the students. She explains: "The course is designed for young people facing that big decision – what they want to do with their lives. It's a way for them to get a sense of the undergraduate experience, which is why it's so great to have them staying in the iconic surroundings of a real Oxford college.
"The chance to sit in on a taster lecture and engage with our lecturers in an Oxford tutorial is the ultimate glimpse into student life. It's ideal for those who didn't expect to go to university at all or those who didn't see Oxford as being 'for them.'"
The academic component of the course included a bridge building workshop, which saw the young people cutting beams to an exacting technical specification, before putting them in a crusher that tests their strength by compressing them to breaking point.
Other workshops included using Computer-Aided Design (CAD) software to design keyrings that were manufactured on one of our new 3D-printers [link to news item about 3D printing lab], for the students to take home as a souvenir. In the Energy Lab, the students built and programmed their own robots, teaching them to follow pre-determined routes of increasing difficulty.
"Engineering is such a broad field," says Libby, "and we really wanted to reflect that. The UNIQ students' activities ranged from hands-on electronic engineering, to sitting in on a mathematical modelling lecture from Professor Luca di Mare, a specialist in gas turbine computation."
Stepping out of the lab, the group took the chance to see engineers at work in the field. They visited working sites around the county, looking at the work being done at a range of engineering-focussed local industries. The list included Thames Water, waste management company Viridor and synchrotron research facility Diamond Light Source.
Engineering Science student ambassador Adam Bush, a fourth-year undergraduate who plans to undertake his DPhil research in Professor Eleanor Stride's BUBBL Group at the Institute of Biomedical Engineering, helped to supervise a trip to the Culham Centre for Fusion Energy (CCFE).
"The CCFE visit was undoubtedly my personal highlight during the Engineering UNIQ week," he said. "We were given an in-depth, all-access tour by a very experienced engineer, and seeing the students' faces light up as we were shown around the interior of the Joint European Torus was a fantastic moment.
"Inspiring students to consider Oxford and Engineering is the primary aim of the UNIQ program, and given their reaction to this cutting-edge research facility, I would say it was definitely achieved."
The UNIQ Summer School programme takes place across the University of Oxford, with over 1,000 students taking part across a range of academic departments. This is its ninth year, and with 2020 marking the 10th anniversary of the scheme's founding, student numbers continue to grow. To apply for a place on next year's Summer School, or for more details, visit the UNIQ website.
Libby said: "I'd encourage everyone to apply for UNIQ, whether or not they think Oxford is for them. As many of our visitors this week told me, you might just be surprised by what you discover! We look forward to welcoming some of these young people back on our undergraduate course."
Read more about our Outreach activities.