24 Oct 2019
Academics launch Chi.Bio, an innovative robotic platform for biological science research
D. Phil. student Harrison Steel developed the new technology which has widespread applications in biological science research, accelerating scientists' work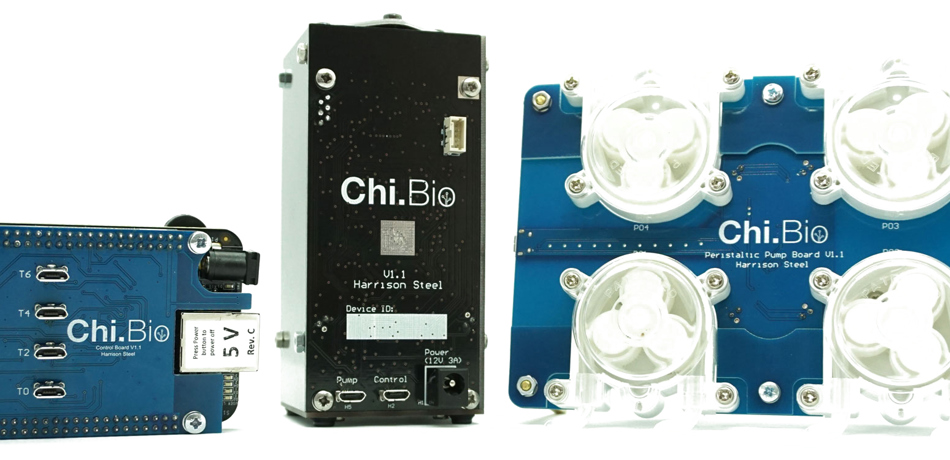 During his DPhil in the department's Control group Harrison Steel (together with postdoctoral researcher Dr Robert Habgood and Professor Antonis Papachristodoulou) developed the Chi.Bio robotic platform. This cutting-edge tool can precisely measure and control single-celled organisms such as bacteria and yeast, and has already found widespread applications in biological science research where it is accelerating scientists' work and opening the door to innovative new experimental procedures.
In a recent interview on Australian national radio Harrison said "The robots all started from a wish to do our experiments without leaving the office, which I am sure many biologists would love to hear. And so, we tried to make a robot which would do all of the measurement and control of our cells for us." One of the great benefits of this approach, he says, is that "it allows you to run experiments for many days at a time. Before using such a robot, we would need to wake up every three hours during the night to add chemicals, which was obviously a bit tedious".
Evidently these capabilities have proven popular with the biologists; Harrison's ability to assemble the robots by hand was quickly outpaced by high demand from academic and industrial researchers around the world. To keep up, he decided to put the invention into mass production by partnering with a company that specialises in the dissemination of open-source hardware tools for science; they took orders for almost a hundred devices before the end of Harrison's DPhil.
Early adopters of the technology included Microsoft Research and researchers at Imperial College London. Alice Boo, a PhD Candidate in Professor Guy-Bart Stan's group says, "Chi.Bio is starting to change how we are running our experiments in the lab to reveal novel dynamic properties of our DNA synthetic constructs. It has a super friendly interface and it saves a lot of time when it comes to setting up experiments".
At this stage future plans for the platform include adding new automated functions, and expanding its sensor array to enable new engineering techniques with biotechnological applications such as biofuel production and carbon sequestration.
Harrison is also determined to ensure that the technology remains easily accessible for scientists from diverse backgrounds. On this he says, "In many scientific fields we are observing an increasing gap between the haves and have-nots. Amazing breakthroughs are being made on the back of new technologies, but the financial and time investment required to take advantage of these is often out of reach for small laboratories, start-ups, and researchers in developing countries. To lower these barriers to entry we made our platform open source, and have started to build a collaborative support community around it that anyone can participate in".
So far this seems to have worked; with Chi.Bio automating experimental procedures that would otherwise require an expensive array of laboratory hardware it is rapidly attracting new users, and is helping biotechnology researchers tackle many of the 21st century's most pressing challenges.
This research was supported by a Sir John Monash scholarship (to Harrison Steel) and an EPSRC Fellowship for Growth in Synthetic Biology (EP/M002454/1, to Antonis Papachristodoulou).