28 Jun 2018
Celebrating our female engineers
International Women in Engineering Day 2018 (Saturday 23 June)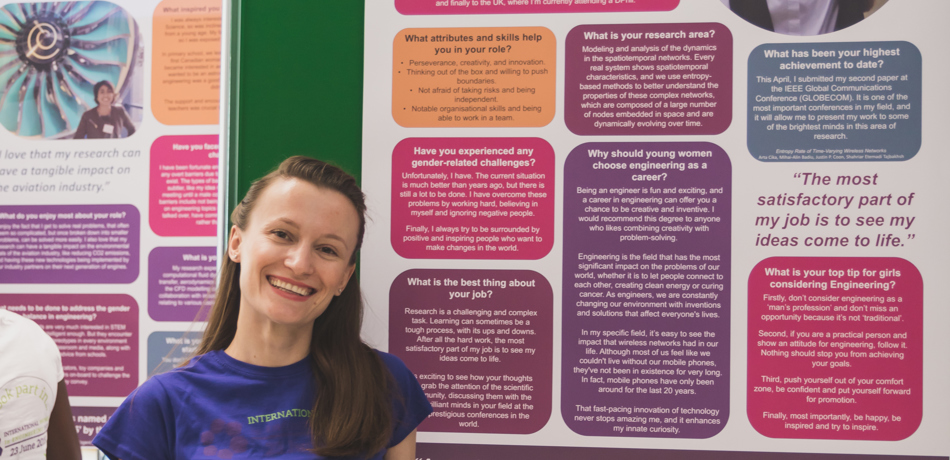 INWED is an annual festival developed and coordinated by the Women's Engineering Society to celebrate the achievements of women in engineering and inspire younger generations to train as engineers. 

To mark the occasion there was a poster display profiling some of the Department's female engineers in the Thom Building reception area all week, plus a lunch reception for all staff and students on Friday 22 June, with a short talk by former Civil Engineering research assistant Christelle Abadie. Female engineers in the department are involved in diverse fields including biomedical engineering, energy and sustainability, aerospace engineering, robotics and AI, civil and information engineering and machine learning.
The UK has a skills gap in engineering, with 124,000 needed each year but only around half this number appointed. Doubling the current percentage of women in the sector would add 96,000 people to the workforce.
Diverse teams also reflect the broader society that engineering serves and provide different ways of approaching solutions. "Diversity is important in all fields so that all views are considered and contribute to the creation of new products and methods, addressing diverse needs. Engineering is not an exception", says Research Lecturer Dr Alejandra Gonzalez-Beltran.
Research shows that most UK girls under 11 are attracted to science and maths subjects, but interest drops sharply at age 16-17 [1]. Having more female role models has been found to be one of the significant drivers impacting girls' interest in STEM subjects going forward. 

Professor Alison Noble,Technikos Professor of Biomedical Engineering
Dr Heba Sailem, postdoctoral research fellow, Institute of Biomedical Engineering
Dr Anela Bajric-Hodzic, postdoctoral researcher, Civil Engineering
Dr Priyanka Dhopade, postdoctoral researcher, Oxford Thermofluids Institute
Dr Alejandra Gonzalez-Beltran, research lecturer, Data Sharing Infrastructure, Oxford e-Research Centre
Dr Rebecca McFadden, Daphne Jackson Fellow, Machine Learning
Dr Harshita Sharma, postdoctoral researcher, Institute of Biomedical Engineering
Gladys C Ngetich, DPhil candidate, Thermofluids and Turbomachinery research group
Arta Cika, DPhil candidate, Communications Engineering
Constance Crozier, DPhil candidate, Information Engineering
Anna Clements, DPhil candidate, Energy and Power Group
"Engineering is one of the most creative and diverse professions where young women can have a lot of impact. Additionally, I think it is the perfect time to become an engineer. There is a lot of support for women who would like to pursue a career in engineering especially at Oxford".

Biomedical engineer Dr Heba Sailem