18 Nov 2022
DPhil student is Rising Star in ESG
Nadja Yang receives a Rising Star award in Environment, Social and Governance by the Women of the Future Programme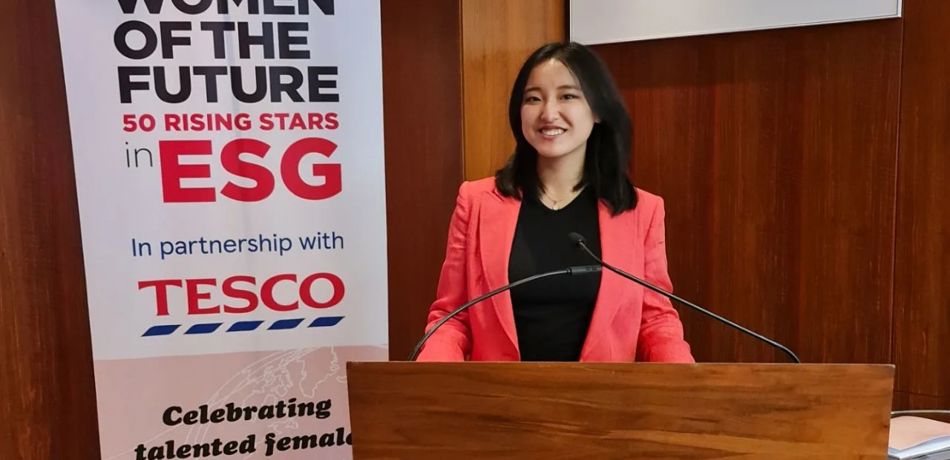 DPhil student Nadja Yang has been named one of 50 Women of the Future Rising Stars in the field of Environmental, Social and Governance (ESG). ESG is a set of standards for creating a plan for  assessing how a company is performing against its commitments to shape a better world and to encourage companies to behave responsibly in terms of its impact on the environment and society, and its' transparency.
Women in ESG: 50 Stars Changing the World celebrates female innovators and role models aged 35 and under who are at the cutting edge of ESG, from around the world. The campaign showcases 50 talented female trailblazers across different aspects of ESG who have made a lasting and positive impact on their organisations, environment and wider society. The campaign aims to help to bring an understanding and appreciation of ESG to a broader audience and celebrate the women who are advancing the field and will be the future of ESG. 
"Diversity is key towards a sustainable future"
Nadja is pursuing a DPhil in Systems Engineering at Oxford, where she conducts research on the Urban Bioeconomy, a concept to help cities become more sustainable and productive in terms of its biological resources. In light of rapid urbanisation and inefficient usage of biological resources, Nadja investigates the different bioeconomic components of cities, including urban food systems, green infrastructure and effective biowaste valorisation schemes based on the principles of circular (bio)economy. She explores potential interactions between different societal, economic and environmental subsystems to bring about more efficient ways of resource production, consumption and distribution in cities.
On receiving the award Nadja says, "I really hope that the importance of having women in engineering, fighting for ESG causes, becomes more and more present. Women are still severely underrepresented in most of the engineering fields and we all know that diversity is key towards a sustainable future."
Nadja was inspired to pursue a career in ESG from a young age, "As a teenager, I was often imagining what contribution I would like to make in the world. During that period, I observed how natural catastrophes could easily wipe away hundreds of lives, and most disasters were accelerated by global warming. I realised for myself that all human striving would be in vain if we no longer live in a functioning ecosystem. In this defining moment, I decided that I would dedicate my life to prevent further man-made environmental destruction. And nowadays, I pursue this path mainly by promoting sustainable technologies and youth engagement, bridging the gap between current silos (e.g. engineering and policy), and finding system-wide solutions for our global challenges."