29 Sep 2020
Dr Tingting Zhu awarded one of the best research articles published in 2019
Dr Zhu's research on automated labelling of biomedical data comes out on top in Sensor, Signal and Imaging Informatics category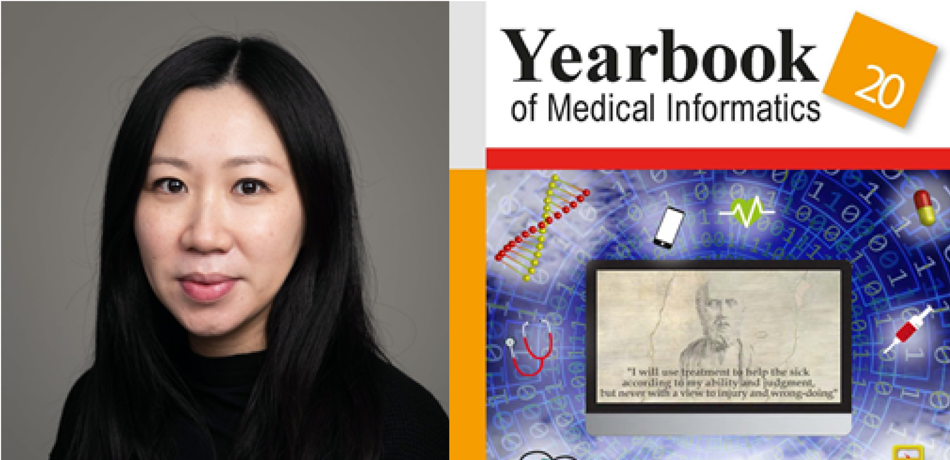 The work of Royal Academy of Engineering Research Fellow Dr Tingting Zhu, will be listed in the 2020 edition of the International Medical Informatics Association Yearbook of Medical Informatics as one of the best articles published in 2019 in the Sensor, Signal and Imaging Informatics category.
Zhu's research is in developing machine learning models that can assist decision making in healthcare. Wearable technology and other forms of sensors can collect large volumes of data on patients that can be used to inform clinicians as to the precise needs and status of their patients on an individual basis. As Zhu explains, "Given the very large quantities of sensor data that rapidly accumulate, there is a need to employ automated algorithms to label biosignal sensor data. In many real-life clinical applications, no such expert labels are available, and algorithms for processing sensor data must be relied upon, without access to the "ground truth". This problem is even more prominent in developing countries where access to experts is limited.
However, without access to this ground truth, it can be difficult to distinguish which algorithm is the most accurate, "Different algorithms may be optimal for different patients, or even for different points in time for the same patient" adds Zhu. Zhu's award-winning research looks at the difficulties and challenges of labelling high volumes of data from medical sensors in real-time, reliably and consistently, so that it can be used for diagnosis and patient-specific treatments. 
Zhu and her colleagues developed two statistical models to gather labels from "annotators" (either human and/or algorithms) for biosignal sensor data, to find an estimate of consensus that outperforms any of them considered independently. They also modelled the difficulty of labelling due to real-life issues such as missing data and artefacts in measurements, and if any correlations of the decision process were found between the annotators.
This is the first time this approach has been done in a biomedical context,
"Our proposed models outperform all existing approaches recreated from the literature. We also show that the proposed methods are robust when dealing with missing values, as often occurs in real-life biomedical applications, thereby providing the basis for the reliable use of sensors for personalising the care of the individual."
By increasing reliability and consistency it paves the way for more personalised and accurate healthcare, "In future our models can be embedded into smart wearables or decision systems to provide estimation for the use in real-time applications that are truly tailored for an individual."
On being announced as one of the best articles of 2019, Zhu tells us, "I am very pleased that our work has received this honourable award by the International Medical Informatics Association. As a biomedical and information engineer, I am interested in creating artificial intelligent tools for healthcare applications. This work is a great example of applying engineering solutions to tackle problems in medicine."
 "Being recognised by the medical informatics community means our work can reach out to an even wider audience and be used in other applications. Being based at the Institute of Biomedical Engineering, it provides an ideal environment for working with colleagues who share similar interests and allows for the development of novel and impactful work. I am very grateful for the support of Dr Marco Pimentel, Profs Gari Clifford and David Clifton to make this work possible."