06 Apr 2023
Engineering DPhil Student makes the Spanish Nova 111 Student List for 2023
DPhil Student Álvaro Martinez Pechero, of St Cross College, is one of 10 students to be selected in the Mathematics, Physics, and Chemistry category; representing the top 3% of talent in this field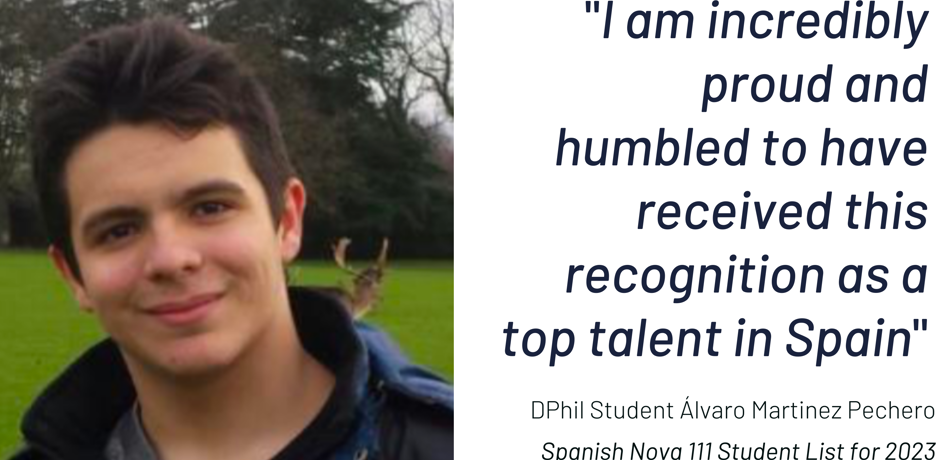 DPhil Student Álvaro Martinez Pechero, of St Cross College, is one of 10 students to be selected for the Spanish Nova 111 Student List in the Mathematics, Physics, and Chemistry category; representing the top 3% of talent in this field.
Part of the Solid Mechanics and Materials Engineering Group, Álvaro is in the second year of his DPhil. His research is focused on "Modelling Fracture Properties of Fusion Reactor Materials" - the development of Finite element models of fracture experiments applied to Beryllium and SiC. These materials are of high importance in Fusion Reactors because of their extreme resistance to high temperatures and radiation but are hampered by their brittleness. This project is part of the Fusion CDT program and is funded by the UKAEA and EuroFusion.
"I am incredibly proud and humbled to have received this recognition as a top talent in Spain."
An invitation-only global talent network, The Nova 111 Student List is an annual publication that selects the top 111 Spanish students aged 18-25 that show the highest potential across 11 different disciplines. The list identifies and brings together students to accelerate their development and support them to make a positive impact in the future.
Over 2,000 candidates were nominated for the 2023 awards. The process involved references from past mentors or bosses, followed by an interview. The jury, consisting of recognized industry leaders and talent experts, then selected 10 students for the list in each discipline.
These recognised talents then benefit from a variety of tools, designed to assist, and accelerate their development and impact in their respective categories. Nova enables listees to attend exclusive sessions with professionals in their discipline, designed to fuel and equip the young professionals with the means to succeed further, as well as many other benefits.
Álvaro said of the achievement: 'I am incredibly proud and humbled to have received recognition as a top talent in Spain. I would like to thank my supervisors Professor Edmund Tarleton from The University of Oxford, Dr Yevhen Zayachuk and Dr Anna Widdowson from UKAEA, Professor David Dickinson from The University of York, and Professor Conrado Albertus Torres from The University of Salamanca, for their support in the selection process.'