28 Apr 2022
Long serving staff member granted Honorary Degree from University of Oxford
On 26th February Maurice Keeble-Smith was conferred the Oxford MA in recognition of his longstanding service to the department and the University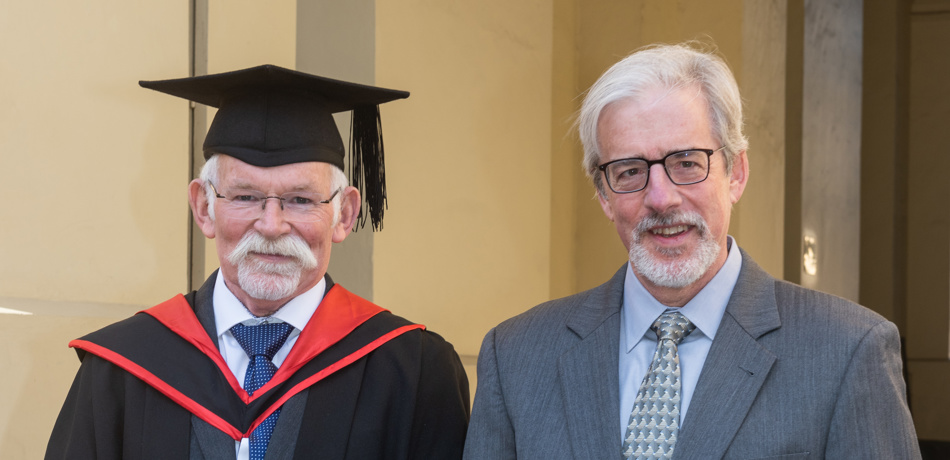 In June 2020, Maurice Keeble-Smith retired having completed 40 years of service with the Department of Engineering Science. He joined the Department in 1979 as a technician and retired in 2020 after 17 years as Head of the Staff Student Workshop.
Maurice made a huge contribution to the Department, teaching undergraduates key technical skills in civil and mechanical engineering, sharing his expert knowledge and supporting academics, post-doctoral researchers and postgraduate students. Earlier this year he was conferred an Oxford MA in recognition of his longstanding service to the University in a ceremony at the Sheldonian Theatre.
Head of Department Ronald A. Roy, who attended the ceremony in February, says, "Maurice was held in great regard by all those who worked with him and over many years was a mainstay of undergraduate practical teaching on the engineering course. He was incredibly helpful and calm, extremely well-liked by both staff and students, and I am delighted his contribution to Engineering at Oxford has been recognised with an honorary MA".
Maurice was first appointed by the department in December 1979 as a technician in the Soil Mechanics Group within Civil Engineering, under Professor Sills. Four years later, Maurice moved to the main departmental workshop where he was involved in the manufacturing of equipment for teaching labs and various research groups across the department. Having moved to the Staff Student Workshop in 1993 as deputy head, he was promoted to head of the workshop in 2003 and worked in this role until his retirement in June 2020.
In the Staff Student Workshop, he was responsible for teaching undergraduates key practical engineering skills in civil and mechanical engineering in the 1st and 2nd years of the undergraduate course. Nearly 30 years of undergraduates passed through this lab and benefited from Maurice's guidance. He also supported undergraduates who chose practical engineering-based projects in their fourth year. The Staff Student Workshop is open to academics, post-doctoral researchers and postgraduate students to use the equipment there, and he provided supervision, advice and guidance to numerous members of the department over the years, as well as manufacturing components and experimental rigs for both teaching and research. He also developed his welding skills, enabling him to provide a welding service to research groups in the department.
Paul Bailey, Teaching and Design Engineer at the Department, worked extensively with Maurice over the years. He says, "I have known Maurice since I started in the Department in 1985, when he was a technician in the Staff-Student Workshop. At that time the Cryogenics group had its own technicians, so we used his services for welding, brazing and soldering. When I stopped doing full-time research, and took over Alan Knight's teaching work, I came into contact with Maurice on a more regular basis. At that time the first-year mechanical lab was based around designing an anti-roll bar for a vehicle and involved forging the end of a steel bar and then machining flats on it. Maurice was one of the technicians who helped with this, particularly with the well-choreographed procedure of pulling the red-hot end of the bar out of the furnace and into the hydraulic press!".
Honorary MAs are awarded at the start of undergraduate degree ceremonies. The Public Orator, Dr Jonathan Katz, delivered an oration in Latin about Maurice, before he was admitted to his degree by Pro-Vice-Chancellor Dame Elish Angiolini. Maurice was joined at the ceremony by his wife, son and his partner.