24 Jan 2019
Engineering student's AI research improving hospital patient flow wins national prizes
Jennifer Bishop's work on developing AI algorithms to improve the flow of patients through hospitals won two national prizes during 2018 - the IMechE 'Vicon Award for Best Medical Engineering Undergraduate' and the Dennis Hill award for 'Best MEng or MSc Student in Biomedical Engineering'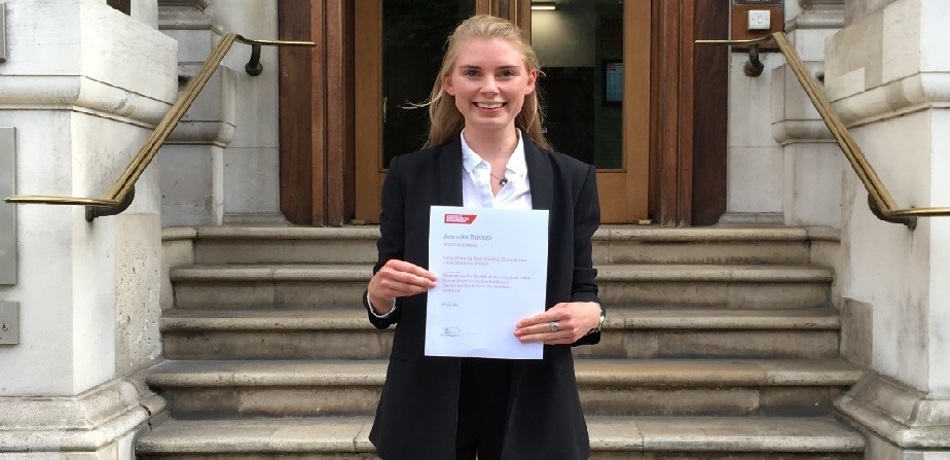 Jennifer Bishop's 4th year project around this work is also subject to a patent application and will shortly be licensed to commercial partners for implementation in healthcare systems.
Jennifer's project was undertaken at the Institute of Biomedical Engineering, under the supervision of Professor David Clifton, and in collaboration with clinicians from the Oxford University Hospitals.
Professor Clifton said of the awards, "Jennifer has achieved that which Oxford engineering undergraduates do at their best: finding solutions to serious real-world problems using principled engineering methods.  This work was an outstanding fourth-year project, in which Jennifer worked closely with our partners in the Oxford University Hospitals at the express request of the Medical Director, and the Executive Board.  The many constraints on NHS hospitals are well-known, and Jennifer's project used deep learning models to advise clinicians on the discharge of patients from the hospital, based on their complex histories of patient data.
The impact of the work will be long-lasting: a patent has been filed from her work, which will shortly be licensed to commercial partners for implementation in healthcare systems.
Originally from Stockport, Jennifer took her GCSEs at a local comprehensive school and her A-levels at Loreto Sixth Form College in Manchester. She then went on to study Engineering Science at St Peter's College Oxford, from which she recently graduated with a first class MEng degree.
Jennifer's interest in biomedical engineering developed as a result of a second-year summer internship at University of Oxford spinout, Oxehealth.
The Vicon Award was presented at the Healthcare Technologies Student and Early Career Awards 2018 which took place at the Institution of Mechanical Engineers, London in June 2018. Jennifer gave a presentation at the event on 'Managing the Health of the Hospital: Data-Driven Approaches for Intelligent Discharge Prediction via Machine Learning'.
The Dennis Hill award, hosted by the IET Healthcare Technologies Network each year, is designed to encourage and support the work and research of MEng, MSc or PhD students, academics and newly qualified professionals in healthcare, medical and biomedical engineering arenas. The prize involved Jennifer presenting her work to a prestigious audience at the IET's Annual Healthcare Lecture held in London.