17 Oct 2022
Engineering students to take part in Engineers in Business (EIB) Champion of Champions final in the 'Big Ideas' category
The students hope to reduce hospital medicine wastage with an autonomous service robot working alongside nurses to dispense prescribed medicines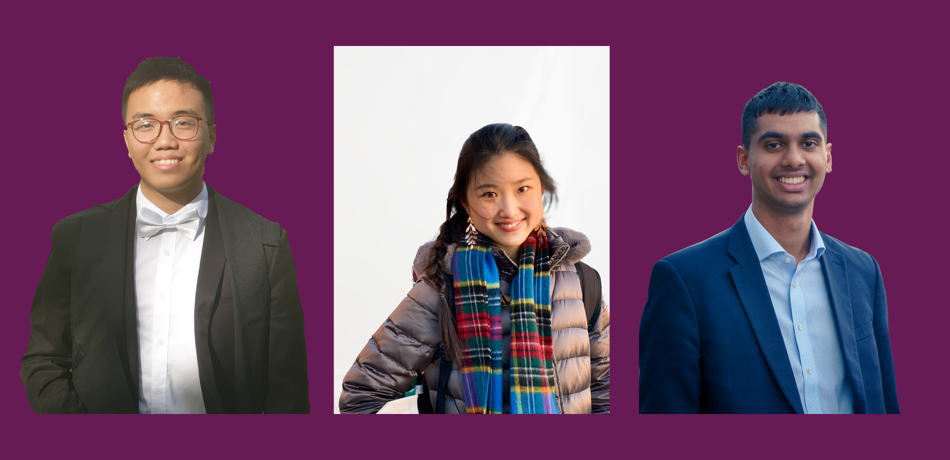 The competition is organised by the registered charity, Engineers in Business Fellowship (EIBF), which encourages engineering students to get involved in business innovation and develop a passion for entrepreneurship by participating in university enterprise competitions. EIBF does this by providing universities with a competition prize fund to reward engineers who develop ingenious ideas that could solve problems in society.
In their 3rd year, Oxford engineering undergraduates team up to write a detailed design proposal that could be used as the basis for a new product or engineering project, and are entered into a competition for the Engineers in Business prize. For their 3rd year project, Oxford Engineering undergraduates Arjun Bhanap, Catherine Ning and Jiale Wang set out to identify areas where an autonomous service robot could add value, ultimately deciding on healthcare.
In NHS hospitals nurses collect prescribed medicines from the pharmacy in standard weekly or monthly doses and these are stored in a locker next to the patients' bed. Any medicines left over when a patient is discharged are not taken home by the patient, nor returned to the hospital pharmacy, but are thrown away, creating wastage the students estimate could amount to around £173m in the UK each year. The team hope their 'ArJiCat' robot solution could support nurses by assisting with the routine and necessary task of medicine delivery. ArJiCat would collect prescriptions from the pharmacy, navigate around the hospital autonomously, and deliver the correct daily dosage for up to eight patients. By introducing 'just in time' medicine dispensing, ArjJiCat could significantly reduce medicine wastage in NHS hospitals.
Final year student Arjun says, 'We aim to cut NHS wastage caused by hospital prescription cycles via daily dispensation of hospital medicines using the ArJiCat robot. We estimate that each ArJiCat Robot has the potential to save around £4,500 a year in medicine wastage. At the EIB finals, we hope to showcase the value-add our robot can deliver in streamlining a process whose current narrative is structurally wasteful."
Professor Jeroen Bergmann, Senior Research Fellow in Engineering & Entrepreneurship for the Department, says, "The innovative and entrepreneurial spirit is evident in our students and I am proud to promote this aspect in our Department as part of the EEM (Engineering, Entrepreneurship and Management) pathway. I congratulate the students on being selected for the Champion of Champions final. It is a great opportunity to show the amazing solutions that they have come up with to tackle pressing issues."
Ten teams of student innovators from eight universities have been selected to pitch their business ideas in the EIB 'Dragons' Den' style competition at the end of October. The finalists will compete for a share of the £15,000 prize fund to help them develop their ideas.
David Falzani MBE, President of the Engineers in Business Fellowship said, "The inventiveness of the students and the quality of their entries never fails to impress me. I look forward to seeing their pitches at the Awards Presentation after a day spent with their coaches perfecting their presentations and wish them all the best of luck."