14 Oct 2019
Inspiring schoolchildren to pursue engineering and natural sciences at university
Student engineers spend a week teaching at village schools in rural Karnataka, southern India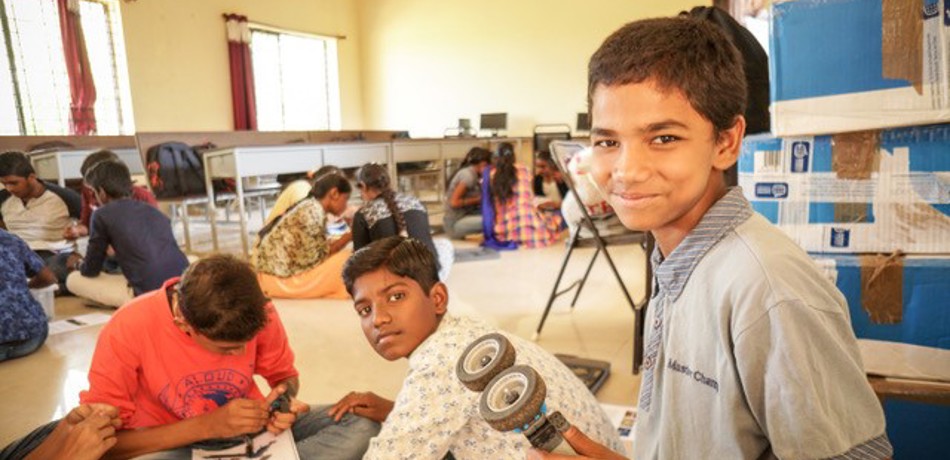 A group of student engineers recently spent a week teaching at village schools in rural Karnataka, southern India. Organised by the Oxford branch of the Engineers Without Borders charity, the students ran interactive workshops which aimed to engage the young people they met.
DPhil candidate Leon Romano-Brandt led the trip. A St Hugh's College student specialising in Materials Engineering, he tells us more about what it involved.
What was the thinking behind your visit?
Our goal is to inspire schoolchildren from less advantaged backgrounds to pursue engineering and natural sciences at university. We think this is one way to improve the overall economic situation in rural Indian villages.
To achieve this, we offered a high-end, interactive teaching experience entirely free of charge, modelled on the world-leading summer schools offered here in Oxford. In April, eight of our students spent a week working with around 200 children in rural India, most of them from remote villages.
What did the lessons involve?
Science classes in rural Indian schools can be very dry and purely theoretical, due to a lack of experiments and other practical activities.
To show that science and engineering can be fun, we designed interactive, hands-on classes on the following topics:
Robotics: Building, programming and controlling your own robot using the VEX Robotics kit
Electronics: Building and understanding a DC motor
Binary numbers: Building a binary adding machine using only cardboard and marbles
Rocket science: Designing and building a water rocket, predicting the flight path and confirming predictions with launch experiments
Renewable energies: Basics of renewable energies, learning about global warming and building solar cars
What was the experience like?
For most of our team members, it was their first stay in India. We were based in Bangalore – a very modern and busy IT metropolis – from where it was approximately two hours' drive to the villages. It took us a day or two to get used to the very heavy traffic and pollution in the city.
Once in the villages, we were overwhelmed by the friendliness and hospitality that we experienced. As all the students understood that our summer school was a great opportunity to learn about science and engineering in an interactive way, they were extremely motivated and hard working.
We had a lot of fun during our lessons, even though the temperatures during the day soared up to 45˚C, with no electricity available for fans or air conditioning. The feedback from both the children and our team of teachers was positive throughout.
It was an incredibly valuable experience for our volunteers too, who got to know an entirely different culture and gained first-hand experience of some of the challenges faced by emerging countries.
What's next?
We are currently in the process of recruiting Oxford students and applying for funding for our next visit, which is planned for beginning of next year. We would like to thank the Department of Engineering Science for their contribution towards our last trip, through the Engineering Undergraduate Innovation Fund.