23 Feb 2021
Researcher attends Global Young Scientists Summit 2021
Post-doctoral researcher Dr Renke Han attended the multi-disciplinary summit this January.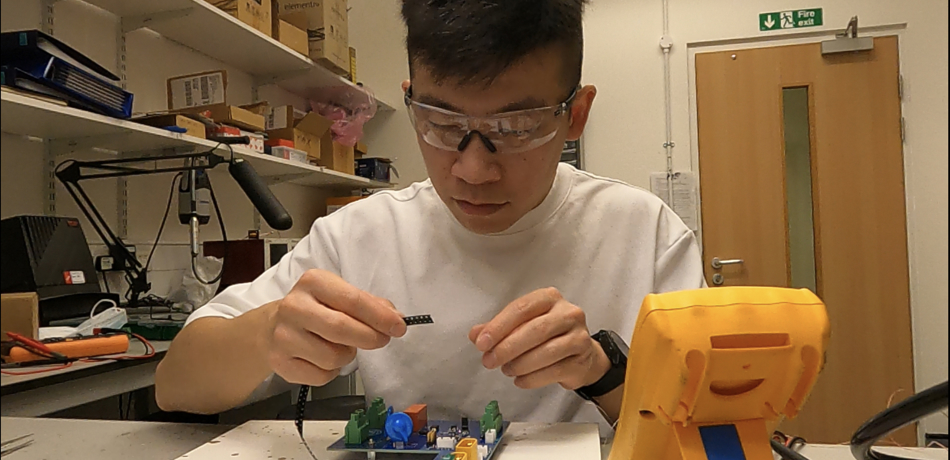 "The Global Young Scientists Summit (GYSS) 2021 was organised by the National Research Foundation (NRF) Singapore from 12th-15th Jan. It is a gathering of young researchers worldwide for a chance to interact with eminent scientists and technology leaders", explains post-doctoral researcher Dr Renke Han - nominated by the Department of Engineering Science to be one of the University's six young researchers to attend the summit.
GYSS is a multi-disciplinary summit that covers topics including chemistry, physics, medicine, mathematics, computer science and engineering.  This year, there were 21 speakers at the Summit including recipients of the Nobel Prize, Fields Medal, Millennium Technology Prize and Turing Award.  The theme was "Advancing Science, Creating Technologies for a Better World".  Promising young scientists had 4 days to exchange ideas around this theme.
Dr Han continues, "It was started in 2013 with the objective of exciting and engaging young scientists to pursue their scientific dreams through close interactions with distinguished scientists and researchers, and with peers. The Summit provides a platform for conversations on science and research, technology innovation and society, and solutions to global challenges."
Dr Han is a researcher working on sustainable energy, "I spent the past seven years in China, Denmark, Switzerland and UK on research developing highly reliable, clean and sustainable electricity solutions."
"I am devoted to being a researcher because I want to improve peoples' life quality practically"
"The project I am doing now, Robust Extra Low Cost Nano-grids (RELCON), is to help non-electrified regions in east Africa achieve low cost Tier 3 (300 W per user) off-grid electrification, which is equal to a Human Development Index of 0.6, but with 3 times reduction in cost per Watt and user"
"Specifically, by taking advantage of plentiful local solar resources, my research is to design power electronics converters to 'bridge' the power flow between solar panels, energy storage and household appliances. We will deploy our research product in one village in east Africa for the first trial and I will gain on-the-ground experience."
Dr Han told us what the summit entailed, "I attended all the plenary lectures and 5 panel discussions during the summit, covering topics such as renewable energies, lithium batteries, quantum and computing, vaccine, neutrino mass, etc."
"I learned new ideas, cutting-edge technologies in different fields. I had several discussions with my peers, inspiring potential multi-disciplinary cooperation by using my electrical engineering expertise."
"Apart from that, I tried to learn and understand the back stories aligned with laureates' career paths especially during their early career stages, which inspired me a lot."
Dr Han tells us about some highlights of GYSS, "I was invited to attend a one-hour small group discussion with Prof. Robert Langer (Millennium Technology Prize Winner, 2008) who is a scientist-entrepreneur holding over 1,400 granted and pending patents and has founded over 40 biotechnology firms. I also participated in the three minutes video contest to give a brief introduction about my research topic. My video received more than 300 views by GYSS candidates during the summit."
Dr Han is passionate about collaborating with other researchers, "I've been to more than 20 countries covering four main continents attending 11 academic conferences and seeking cooperation and requirements from different perspectives. My academic partners are from 8 countries and 6 institutions. So I am always open for opportunities and ideas, and the potential for multi-disciplinary cooperation"
Despite the summit being virtual this year, there were still plenty of opportunities for networking with other scientists, as Dr Han adds, "The networking was really active. Firstly, there was a public chat room where everyone could leave messages. Secondly there was a random matching system. Whenever a candidate would like to be involved in networking, the system matched two candidates randomly in the video call, and create a chat room for one hour."
Dr Han concludes with the following advice, "Be open for different choices and do not limit yourself in only one direction; and always remember to encourage people in a positive way".