21 Sep 2018
Former Engineering Science Fellow awarded Honorary Degree from University College Dublin
Congratulations to Professor John O'Connor, former Fellow and Tutor in Engineering Science at St Peter's, and now an Emeritus Fellow of the college, who has been awarded an Honorary Degree of Doctor of Science from University College Dublin.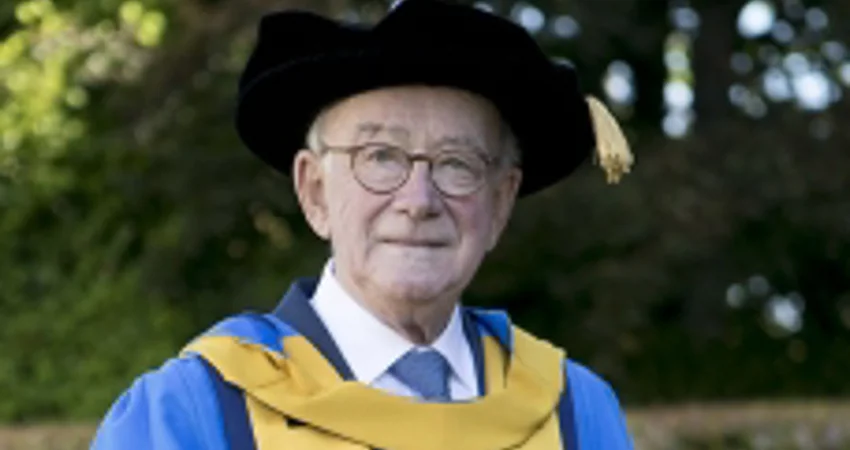 Professor O'Connor, who taught at St Peter's between 1965 and 2001, is the inventor, along with Professor John Goodfellow, of what is now known as the Oxford Knee, a revolutionary device that has helped bring pain relief to hundreds of thousands of people worldwide.
The two men combined their knowledge of the human body and engineering to work toward something medical science had so far failed to achieve - a reliable, long-lasting knee replacement. O'Connor's research showed that, in most cases, it wasn't necessary to carry out a total knee replacement - replacing only the damaged parts is far less invasive and leads to a far quicker patient recovery. The first Oxford Knee was implanted in a patient in June 1976 and the device was used as a partial knee replacement from 1982, with around 50,000 Oxford Partial Knee operations now performed annually worldwide.
John was one of seven outstanding leaders across the fields of engineering, sociology, financial services and creative arts to have their career achievements recognised by University College Dublin.
This short documentary, a Nuffield Health video produced with the help of the Department of Engineering Science, the Nuffield Department of Orthopaedics, Rheumatology and Musculoskeletal Sciences and the Nuffield Orthopaedic Centre, charts the innovations of the last 40 years that have made it one of the most successful and widely used partial knee replacements in the world.