21 Apr 2023
Frederic Lizzi Early Career Award for Professor James Kwan
The Frederic Lizzi Early Career Award recognises Early Career achievements and celebrates the winners' 'bright futures in the field of therapeutic ultrasound'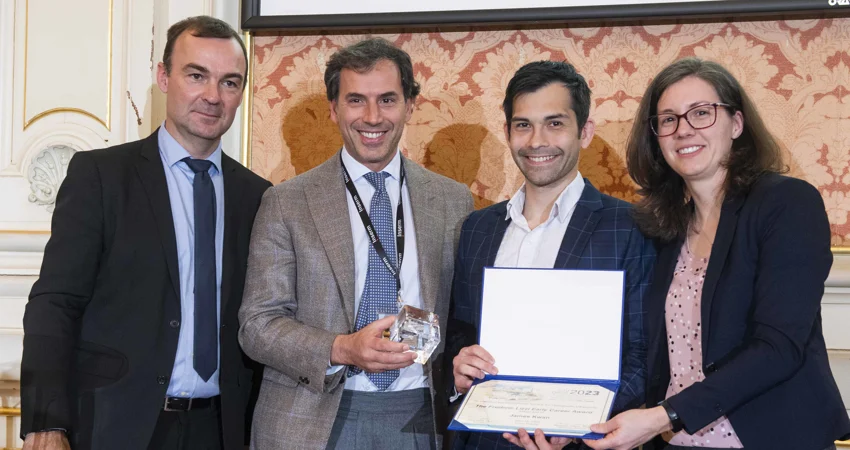 Awarded by the International Society for Therapeutic Ultrasound, the Frederic Lizzi Early Career Award was established in 2008 in honour of Frederic L. Lizzi, a pioneer in advanced diagnostic and therapeutic applications of ultrasound, to recognise early career achievements in the field of therapeutic ultrasound.
Professor James Kwan is a Principal Investigator at the Department's Physical Acoustics Laboratory (PacLab) and at the Oxford Suzhou Centre for Advanced Research (OSCAR). His research interests include the application of mechanical, thermal, and chemical effects of ultrasound and cavitation to address challenges in personal and environmental health.
He leads the Kwan Research Group, whose research areas include sonochemistry — the use of ultrasound and cavitation to promote chemical reactions or facilitate nanoparticle formation; designing and developing novel ultrasound devices and cavitation nuclei to enhance the treatment of diseases such as cancer and peripheral artery disease; and using ultrasound to mechanically disrupt biofilms, which make many medical and environmental infections difficult to treat, and to enhance the transport of antibiotics.
He says, "It truly is an honour to receive this award. This would not have been possible without my mentors, Prof Mark Borden and Prof Constantin Coussios, my supportive family, and all of the amazing students and postdocs I have had the privilege to work alongside."
The last person from the University of Oxford to win this award was James's postdoc supervisor, Professor Constantin Coussios (now Director of the Institute of Biomedical Engineering), eleven years ago.
Article adapted with permission from Balliol College