27 Jan 2020
MPLS Women in Stem event welcomes 140 Oxford students and researchers
Event shows students 'how exciting and diverse research can be'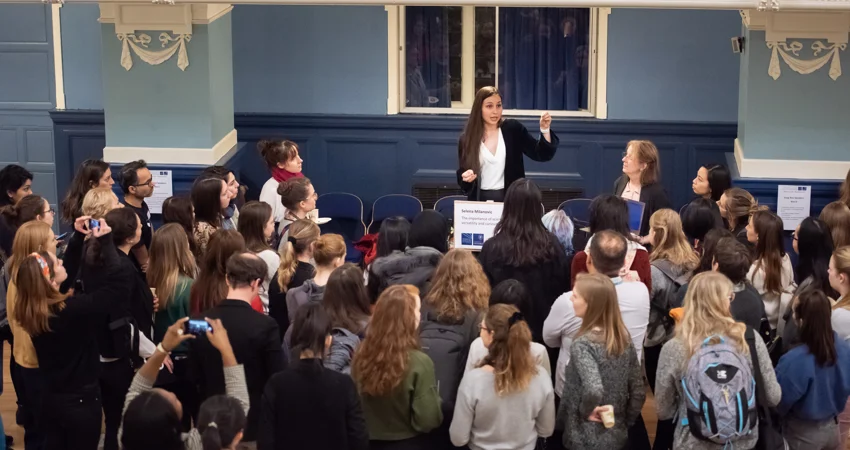 140 students and researchers attended the 2020 MPLS Women in STEM event this week at the Oxford Town Hall.
Organised jointly by the Department of Engineering Science with other Maths, Physics and Life Sciences departments at the University of Oxford, the event aims to bring together inspiring women working in science, engineering and maths with undergraduate and postgraduate students.
Engineering Science DPhil candidate Selena Milanovic, who gave a soapbox style talk on the importance of scientific versatility and curiosity, says "Being a speaker at this event gave me the opportunity to reach out to younger engineering students, by telling them how exciting and diverse research can be. As an undergraduate, choosing a specialization can feel very daunting which is why I wanted to incite them to be curious and explore various topics instead. Ultimately, my wish is to see increasing numbers of enthusiastic and confident research scientists in STEM".
Other soapbox speakers covered subjects as varied as navigating life as a research scientist, developing confidence in male-dominated industries and science communication, as well as talks on specific research areas in Engineering, Zoology, Physics and the Environmental Change Institute.
"my wish is to see increasing numbers of enthusiastic and confident research scientists in STEM"
Elisabeth Pickles, who went along to share information about her DPhil research in MRI of liver cancer, says, "I took part because I wanted to inspire women to consider a career in medical imaging, which gives the opportunity to combine a love of physics/engineering/maths with a medical application, which can really make a difference to people's lives".
The event is organised each year to inspire current students, create opportunities for women involved in STEM in various forms at Oxford to meet and understand what support networks are available, and share information about the career opportunities in both industry and academia.
Selena adds, "the event was well balanced between the academic and the industrial representatives. It was a great opportunity for young graduates to have an overview of the vast array of career prospects that await them. In addition, some speakers shared stories on their personal journey as women in male-dominated disciplines, making the event also an occasion to learn valuable lessons".