26 Aug 2020
New academic appointments in 2020
Department of Engineering Science welcomes four new faculty members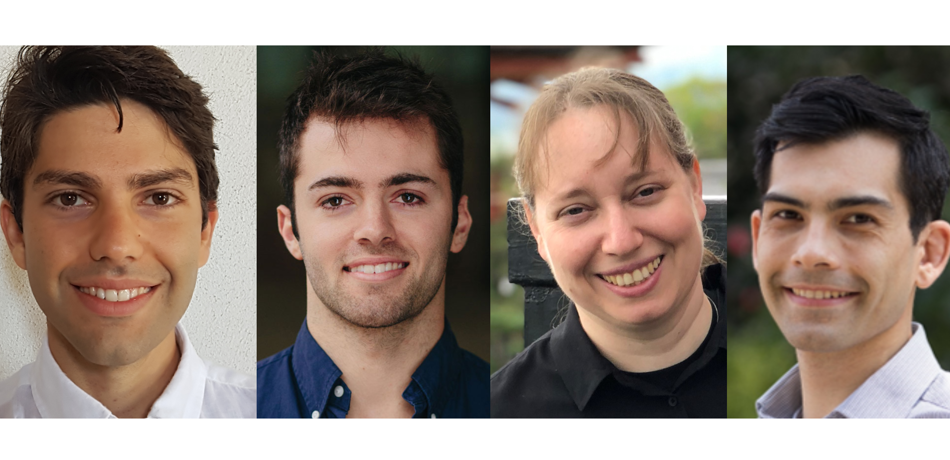 In 2020 the Department has been delighted to welcome four new faculty members: Associate Professors Noa Zilberman, James Kwan, Orestis Adamidis and Harrison Steel. The Department now has over 125 academics applying cutting-edge science to generate new engineering technology.
Head of Department Professor Ronald Roy says, "Despite the pandemic the Department is continuing to grow and develop our world-leading research and innovation in both traditional disciplines and emerging areas such as information and biomedical engineering. We are delighted to welcome these new faculty members, all experts in their field, to continue our excellent multi-disciplinary teaching and research endeavours."
Associate Professor of Digital Electronics Noa Zilberman, who joined the department in January, is leading research in computing infrastructure, focusing on the integration of micro-level architectures and macro level, large scale computing systems. Before joining Oxford, she was a Leverhulme Early Career Fellow and an Affiliated Lecturer at the University of Cambridge. Prior to that, she spent close to 15 years in industry, in various design and management roles, and as the architecture lead of a multi-billion transistors network device at Broadcom. Open-source platforms developed as part of her research are being used by thousands of researchers in more than 300 universities and 60 countries. Her research interests include sustainable computing infrastructure, programmable hardware, networked systems and in-network computing. Professor Zilberman is also a Tutorial Fellow at Somerville College.
Associate Professor of Chemical Engineering James Kwan, who was appointed in July, first joined the Department as a postdoc in the BUBBL group in Oxford under the supervision of Professor Constantin Coussios, following which he joined the Oxford spinout company OxSonics as a chemical engineer. In 2016, James left Oxford to become an Assistant Professor at Nanyang Technological University, Singapore in the School of Chemical and Biomedical Engineering. After four years in Singapore, James moved back to Oxford to rejoin the Department of Engineering Science as an Associate Professor and Tutorial Fellow at Balliol College. Professor Kwan's research interests include the application of mechanical, thermal, and chemical effects of ultrasound and cavitation to address challenges in personal and environmental health.
Associate Professor of Civil Engineering, and Tutorial Fellow at St Catherine's College, Orestis Adamidis, also joined us in July. Orestis studied civil engineering at the National Technical University of Athens, specialising in geotechnical engineering. He then moved to the University of Cambridge, where he completed a PhD examining the response of shallow founded structures in the event of earthquake-induced liquefaction, using dynamic centrifuge experiments. Afterwards, Orestis went to ETH Zurich with a Postdoctoral Research Fellowship, where he focused on element testing of liquefiable materials and numerical modelling of liquefaction-related problems. His research interests include soil response under partially drained conditions, liquefaction susceptibility of layered deposits, and shallow founded structures and earthquake-induced liquefaction.
Associate Professor of Control Engineering Harrison Steel, who will join the Department in October, completed a BEng in Mechanical Engineering and a BSc in Physics and Mathematics at the University of Sydney, followed by a DPhil in the Department of Engineering Science as a Monash scholar. Following his studies he was a postdoctoral researcher in the Department's Control Group, before joining as an Associate Professor in 2020. He will serve as a Tutorial Fellow at Harris Manchester College. Professor Steel works at the intersection of biology, control engineering, and robotics. His research is focused on the development of technologies that enable the biological revolution, combining control architectures that operate both internally (e.g. feedback control loops implemented in a cell's DNA) and externally (e.g. automated robotic experimental platforms) to living organisms. Technologies developed in his research are used by dozens of laboratories in academia and industry and have been spun out as open-source ventures.
Professor Roy adds, "We are very pleased to welcome all four of these outstanding early career professors to the Engineering Science family and look forward to working with them in the years to come".