27 Oct 2020
New Departmental lecturers in electrical and mechanical engineering
Drs Suchandrima Das and Amanda Smyth joined the Department recently and will conduct research in material modelling and environmental fluid dynamics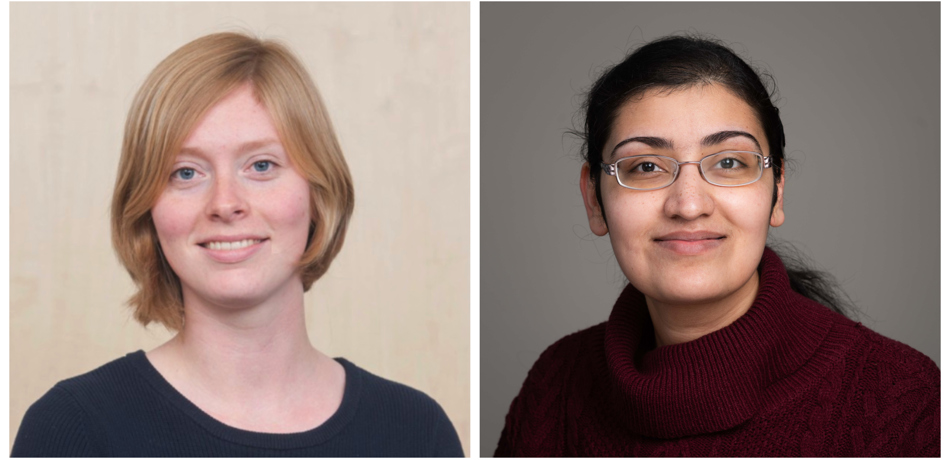 Dr Suchandrima Das joins the Department this month as a lecturer alongside a Career Development Fellowship at Jesus College. She has a bachelor's degree from National University of Singapore, focusing on electrical engineering and specifically on optoelectronic materials.
In 2016, she joined the department of Engineering Science as a DPhil student of Solid Mechanics, associated with Mansfield College. In her PhD she used new synchrotron X-Ray diffraction techniques along with numerical modelling to study the changes in material properties due to irradiation damage, with the aim of developing armour components for future fusion reactors.
Her current research combines the fields of electrical engineering, biomedical engineering and solid mechanics under the realm of material engineering. It primarily focusses on development of physically-based multi-scale computational material models, which are targeted to be developed for design and characterisation of novel materials for high-performance applications such as medical implants, nuclear reactor components and high-frequency transistors.
Dr Amanda Smyth started a Career Development Fellowship at St Hugh's College, and was appointed Engineering Science Departmental Lecturer, in October 2020. Previously she worked as a research associate in the Whittle Laboratory at Cambridge University.
Her research area at Oxford is in unsteady fluid dynamics, with a particular focus on 3D effects. She is working on modelling and mitigation of unsteady hydrodynamic loading on tidal turbines, through the development of 3D modelling tools, and identification of passive design parameters that reduce the risk of premature fatigue failures or catastrophic overloading. Her other research interest include unsteady gust-aerofoil interaction, and the high-efficiency propulsive swimming motion of marine animals.
Amanda primarily uses a combination of high- and low-order numerical simulation to carry out her research, as well as analytical modelling.
Amanda's Career Development Fellowship also includes responsibility for promoting Women in Engineering through events with the college and University and outreach activities with schools and the wider community. If you have an interest in this work, or would like to get involved in the departmental Women in Engineering Network (WiE), get in touch with Amanda.