05 Feb 2021
New Departmental Lecturers in Hypersonics and Physical Acoustics
The Department has recently appointed Dr Jason Raymond and Dr Tobias Hermann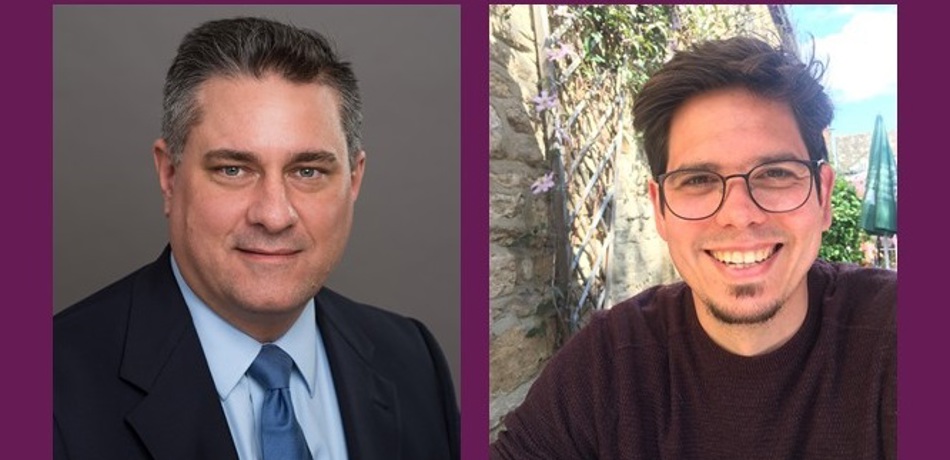 Dr Jason Raymond (pictured left) joined the department as the 2015-16 F.V. Hunt Postdoctoral Research Fellow of the Acoustical Society of America and was previously a Whitaker International Fellow at Erasmus Medical Center Rotterdam. His research interests are in biomedical applications of ultrasound, acoustic cavitation, and ultrasound contrast agents.
He holds a B.S. in Interdisciplinary Engineering and M.S. in Mechanical Engineering from Boston University, and a Ph.D. in Biomedical Engineering from the University of Cincinnati.
Dr Raymond currently serves on the technical committee for Physical Acoustics and technical committee for Biomedical Acoustics of the Acoustical Society of America, and is a Member of the Institute of Physics.
Dr Tobias Hermann (pictured right) joined the Department in 2017 as a Post-Doc in the Oxford Hypersonics group of the Oxford Thermofluids Institute, where he mainly worked on the topic of transpiration cooling, an active cooling technique for spacecraft heat shields. From 2021 he is working as a UKRI Future Leaders Fellow on high enthalpy experimental research which includes wind tunnel experiments with the multi-mode facility T6, and the development of optical diagnostic techniques.
His research interests lie in the field of high enthalpy non-equilibrium flows and in the development of measurement and instrumentation techniques.