17 May 2022
Welcome to new Departmental Lecturers in the Oxford e-Research Centre, Chemical and Civil Engineering, and leading the OU Formula Student team
Four new Departmental Lecturers, Drs Karel Adámek (Scientific Computing), Binjian Nie (Chemical), Vincenzo Nardelli (Geotechnical) and Ryan Walker (Formula Student) started at the Department in Spring 2022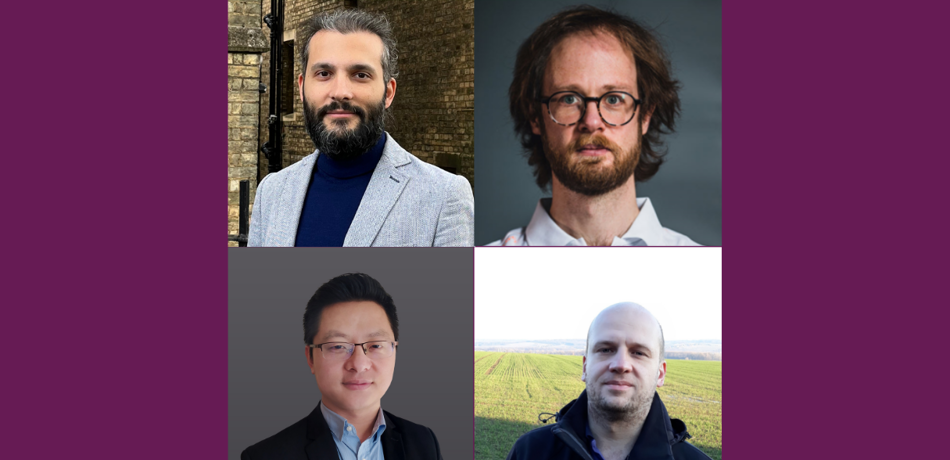 Dr Karel Adámek has an MPhys degree in Astrophysics and a PhD in Theoretical Physics, focusing on general relativity and physical processes around the compact object.
Dr Adámek was appointed Departmental Lecturer at the Oxford e-Research Centre (Oerc) in April 2022. Dr Adámek started as a Post-Doctoral Research Associate at Oerc from 2015 to 2019 and rejoined the University of Oxford as a Senior Researcher in 2021. His research interests are in High-Performance Computing, Scientific Computing, Digital Signal Processing and GPU Computing. Current projects include Astro Accelerate - GPU accelerated real-time signal processing for time-domain radio-astronomy - and SKA SDP - the science data processor for the Square Kilometre Array (a next-generation radio telescope). He also acts as Oxford SAFe team's Product Owner for the science data processor for the Square Kilometre Array.
Dr Binjian Nie holds BSc and MEng degrees and a PhD in Chemical Engineering. He has worked as a Research Fellow in thermal energy storage and then as Senior Research Fellow before joining Oxford in February 2022.
Dr Nie has been working on decarbonizing heat and cooling using thermo/thermochemical energy storage methodologies which can match energy supply and demand, exploit variable renewable (solar and wind) energy sources, increase the overall efficiency of the energy system, and reduce carbon-dioxide emissions. His work on thermal energy storage materials, devices, and systems has been granted several Patents and PI funding. Dr Nie works closely with industry - his work on clean energy conversion and management has been commercially applied including in district heating and cold chain.
Prior to joining the Department in April 2022 where he will be focusing on offshore foundations as part of the Marine Renewable Energy Group, Dr Vincenzo Nardelli was a Lecturer in Civil Engineering at Birmingham City University, where he taught Soil Mechanics and Geotechnical Engineering.
Dr Nardelli graduated from Politecnico di Bari (Italy), where he studied Environmental Engineering (BSc) and Civil Engineering (MSc). He then went to study for his PhD in Civil Engineering at the City University of Hong Kong, focussing on the micromechanical characterisation of granular materials. The main results of this research were included in an article published on Géotechnique, for which he was awarded the Geotechnical Research Medal from the Institution of Civil Engineers (ICE) in 2020. After a post-doc at the University of Hong Kong, during which he mostly carried out experimental research on treated sands, he spent 3 years in the construction industry working as a consultant for large-scale projects, including land reclamation and tunnelling.
Dr Ryan Walker recently joined the Department to lead the Oxford University Formula Student team, whilst also pursuing his research interests in automotive systems, condition monitoring, diagnostics & prognostics.
Dr Walker studied automotive (mechanical) engineering at the University of Leeds, graduating in 2007. After a short period as a freelance motorsport engineer in Formula 4, 3 and 2, he returned to academia for a PhD in aeronautical engineering. He completed this in 2013, after a program in rotordynamic faults and condition monitoring with Rolls Royce and Cranfield University. From 2013 to 2022 he worked with the Mercedes AMG Formula 1 team, winning a record 8 consecutive world constructors' championships. In addition to car design and operation Ryan consulted for a variety of projects, ranging from road cars to Americas cup yachts.