08 Nov 2023
New training centre will bridge the gap between environmental science and AI
Backed by over £15 million funding, the new Centre for Doctoral Training will combine the university's strengths in artificial intelligence, machine learning, Big Data, and environmental sciences to address global environmental challenges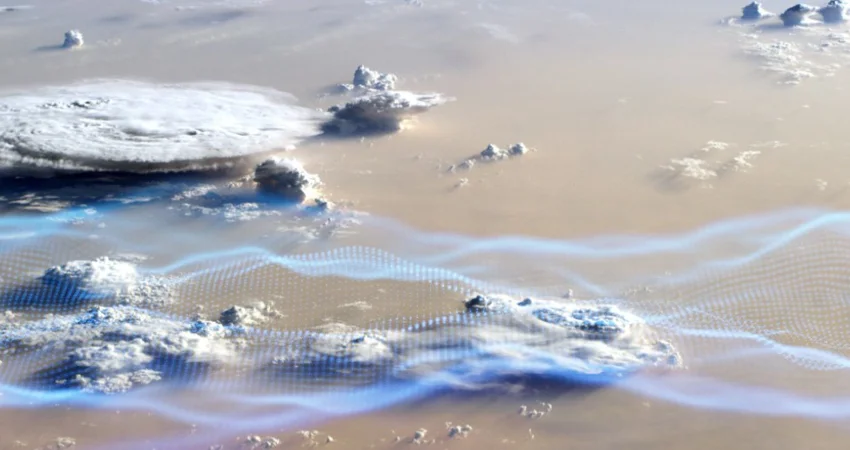 Backed by over £15 million funding, the University of Oxford is establishing a new Centre for Doctoral Training (CDT) that will combine the university's strengths in artificial intelligence (AI), machine learning, Big Data, and environmental sciences. Over an initial eight years, The UKRI AI Centre for Doctoral Training in AI for the Environment (The Intelligent Earth Centre) will train almost 100 PhD students to develop and apply cutting-edge AI technologies to tackle urgent environmental crises.
The Intelligent Earth Centre is one of a cohort of twelve new UK Research and Innovation (UKRI) CDTs in AI, based at 16 universities. It involves the Department of Engineering Science alongside the following University of Oxford Departments: Physics, Biology, Computer Science, Earth Sciences, Statistics, and the School of Geography and the Environment. The Centre is a collaboration with non-academic partners IBM, Google, DeepMind, NVIDIA, ESA, Planet, Met Office, Frontier Development Lab, UK Centre for Ecology & Hydrology, National Centre for Atmospheric Science, On the Edge, Natural State, ConservationXLabs, and Satellite Applications Catapult. 
Michelle Donelan, Secretary of State for Science, Innovation and Technology, says, "The UK is at the very front of the global race to turn AI's awesome potential into a giant leap forward for people's quality of life and productivity at work, all while ensuring this technology works safely, ethically and responsibly. The plans we are announcing today will future-proof our nation's skills base, meaning we can reap the benefits of AI as it continues to develop. At the same time, we are taking the first steps to put the power of this technology to work, for good, across Government and society."
Addressing a skills gap between AI and environmental science
The remarkable breakthroughs in AI and machine learning over recent decades offer the potential to revolutionize environmental research and provide novel solutions to address Earth's environmental crises – from climate change and biodiversity loss, to pollution and clean energy. However, this is currently restricted by a crucial skills gap: environmental scientists often lack expertise in data sciences, limiting their ability to leverage AI and machine learning tools, whereas data scientists typically do not have specific knowledge in environmental sciences.
The Intelligent Earth Centre will meet this need by delivering a multidisciplinary training program designed to equip a new generation of PhD students to develop AI to tackle urgent environmental crises – well beyond the application of existing AI.
"Traditional, siloed training in environmental and data science has created a bottleneck for UK leadership in science, innovation, and entrepreneurship in this emergent space. Hence, The Intelligent Earth Centre will meet the urgent need for interdisciplinary training at the interface between the environment and AI."
Professor Philip Stier (Department of Physics), Director for The Intelligent Earth Centre
The new centre has been funded by a major £12 million grant from UKRI, with additional funding from the University of Oxford and a wide range of partners, including IBM, Google, DeepMind, the European Space Agency, Planet, the Met Office, the Frontier Development Lab, and the Satellite Applications Catapult. These partners will host the Centre's students for placements, enabling them to develop their skills further.
An interdisciplinary initiative
The Intelligent Earth Centre will be intrinsically interdisciplinary, delivering tailored training in both environmental science and data science, and facilitating ambitious, intersectoral projects. Following a rigorous taught programme covering AI tools, frameworks, and environmental datasets, students will work in interdisciplinary groups to tackle grand challenges in environmental science with increasing complexity. Such applications of AI could include next generation climate models that run at a fraction of the computational cost and environmental footprint, automated tracking of biodiversity loss and unregulated pollution sources from space, or rapid alert systems for environmental disasters.
Professor Stier says: "Not only will The Intelligent Earth Centre provide highly qualified graduates for a wide range of industries, but we also expect our own students to drive innovation and found their own start-ups, supported by the programme's dedicated training in enterprise, impact, and responsible AI."
The Centre will have two entry streams for applicants: one for numerate candidates from environmental science backgrounds and the other for environmentally-driven candidates from computer science, data science, mathematics, statistics, or physics backgrounds. The first PhD positions will start in September 2024 and will open for applications soon with a deadline in January 2024. All details will be provided on The Intelligent Earth website.
"The UK is in a strong position to harness the power of AI to transform many aspects of our lives for the better. Crucial to this endeavour is nurturing the talented people and teams we need to apply AI to a broad spectrum of challenges, from healthy aging to sustainable agriculture, ensuring its responsible and trustworthy adoption."
Professor Dame Ottoline Leyser, UKRI Chief Executive