04 Jan 2022
FDA approves novel organ preservation device developed across Biomedical Engineering and Surgery
First therapeutic device developed within IBME completes regulatory approval on both sides of the Atlantic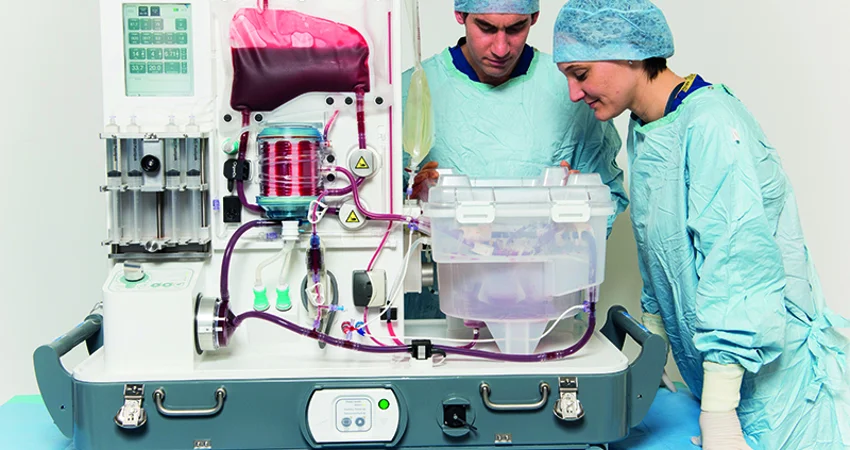 University spin-out OrganOx, a world leader in normothermic machine perfusion (NMP), recently announced that the U.S. Food and Drug Administration (FDA) has granted premarket approval (PMA) of its metra system. The metra is the first medical device to have emerged from research carried out in the University's cross-disciplinary Institute of Biomedical Engineering.
The OrganOx metra is a fully automated NMP device for the preservation and transport of donor livers destined for transplantation. The FDA marketing approval includes both livers from donors after brain death (DBD) and livers from donors after circulatory death (DCD) and is expected to greatly increase the number of organs available for liver transplantation in the United States.
The device is already CE-marked and has received a positive NICE recommendation in the UK, where it has been widely used since 2018, following on from a randomized clinical trial sponsored by the University of Oxford and published as a cover story in Nature in May 2018.
Resulting from cross-disciplinary biomedical engineering research at the University of Oxford's Department of Engineering Science and Nuffield Department of Surgical Sciences, with trials supported by the NIHR and EU, the OrganOx metra is the world's first normothermic (i.e. normal body temperature) organ preservation device used for improved and prolonged preservation and functional testing of livers prior to transplantation.
Led by Professors Constantin Coussios FREng and Peter Friend FMedSci, this device was developed over the course of 15 years of research and it is the first to enable prolonged preservation of an organ in a functioning state outside the body. This makes it possible to (i) preserve organs for at least twice as long as conventional cold preservation techniques; (ii) assess the function of the graft during preservation before putting the recipient at risk; and (iii) safely use livers available within current donation practices that are currently perceived as being too risky for transplant, including fatty livers and organs from donors following circulatory death. It enables the safe utilisation of over 70% of livers which were until recently deemed unsuitable for transplant and makes it possible for hospitals to perform the majority of their transplants as a planned daytime procedure. 
After commercialisation, the OrganOx metra is today deployed and routinely used in all seven UK liver transplant centres with impressive early results, seeing an increase in annual liver transplant numbers within current donation practice. In 2019 OrganOx won the Medtech Insight Award for "best Proof-of-Value of an Innovation", recognising the benefits of its normothermic perfusion platform in increasing the utilisation of donated organs.
Craig Marshall, OrganOx CEO, commented, "We are thrilled with this news and excited to be able to bring our technology to the US, which we expect will increase the utilization of donor organs and thereby reduce waitlist mortality.  To date, the metra has supported more than 1,200 liver transplants worldwide, with several individual centres in Europe having transplanted more than 100 donor livers using our system.
There is a clear unmet clinical need for our device in the US where the situation is similar to Europe, with many patients dying on the waitlist and large numbers of donated organs that are not transplanted. With our device we aim to make more livers available for transplantation to ensure that more patients can benefit from this life saving procedure."
Dr Stuart Knechtle, Executive Director of the Duke Transplant Center at Duke University School of Medicine and National Principal Investigator for the IDE Trial that supported PMA approval added, "Through the IDE Trial we have seen the difference this technology can make to liver transplant outcomes. The biggest benefit of the metra is the ability to assess the function of the organ on the device, prior to committing to the transplant. This offers the potential to safely expand the pool of donor organs which would result in many more US patients receiving a liver transplant."