19 Dec 2022
Oxford Suzhou Centre for Advanced Research celebrates its fourth anniversary
OSCAR officially opened on 22 November 2018. Its interdisciplinary research portfolio spans modern biotechnology, advanced materials, computational approaches and manufacturing techniques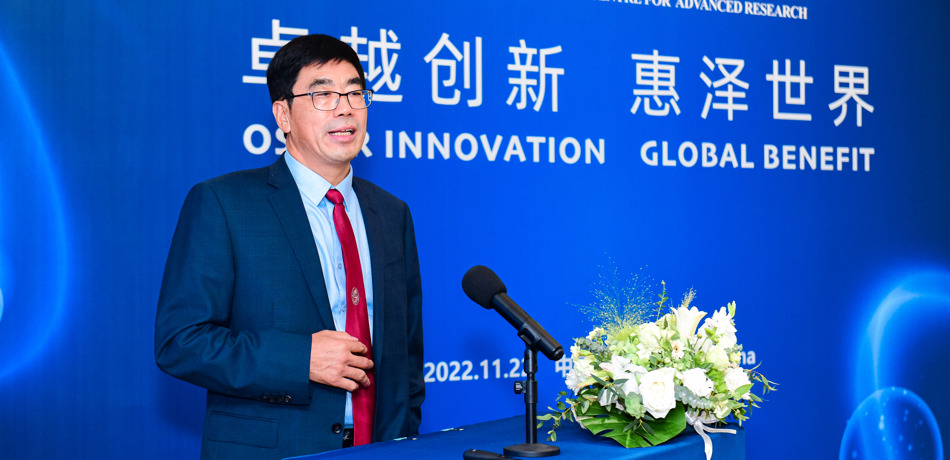 The Oxford Suzhou Centre for Advanced Research (OSCAR), the University's engineering and physical sciences research institute in China, has marked its fourth anniversary with a celebratory event in Suzhou.
OSCAR's Director, MPLS Director of Strategic Projects (China) and Donald Pollock Professor of Chemical Engineering Zhanfeng Cui attended the anniversary event, with representatives from the British Consulate General in Shanghai, China's Suzhou Industrial Park (SIP), OSCAR and Suzhou's wider industrial community.
Professor Dame Louise Richardson, Vice-Chancellor of the University of Oxford, and Professor Mark Moloney, OSCAR's deputy director, offered congratulations via video messages.
Speaking at the event, Professor Zhanfeng Cui said: "OSCAR has made a strong case for its research excellence and the advantage of international collaboration. The new phase will see OSCAR strive towards 'innovation', launching OSCAR's Innovation Hub to develop innovative technologies and increase technology readiness; 'incubation', speeding up technology spinout to commercialise OSCAR's R&D output; and 'impact', bringing economic, environmental and social benefits to SIP and beyond."
Professor of Chemistry, Mark Moloney said: "Even with all the restrictions imposed on us since 2020, OSCAR has thrived, demonstrating that it is capable of engaging in excellent science, working with local collaborators and seeking commercial interaction to convert innovation into commercialisation. I'm very sure we'll continually improve this work over the coming years."
The anniversary celebration was an opportunity to highlight some of OSCAR's newest industry collaborations, including two new research agreements with the Frist Affiliated Hospital of Soochow University, involving work on a potential treatment for ovarian cancer with the Department of Obstetrics and Gynaecology, and research into the diagnostic methodologies for colorectal cancer with the Department of Gastroenterology. 
The event also marked the launch of OSCAR's latest Innovation Technology Centre, which focuses on Perovskite Thin-Film technologies, with applications including solar panel design.
Speaking at the event, Andrew McAllister, British Acting Consul-General Shanghai, said: "The collaborative relationship between Oxford and Suzhou is a flagship example of international collaboration with mutual benefit. It reflects a wider UK-China, and more specifically UK-Jiangsu, relationship of strength and depth in key, and often cutting edge, fields of activity. OSCAR offers a great example of what we can achieve when we put our collective minds, and will, to it."
Qian Ni, Vice-Chair of the Suzhou Industrial Park (SIP)'s Administrative Committee, said: "In the past four years, OSCAR has exerted the magnetic appeal of a world-leading university and contributed positively to SIP's flagship project of international collaboration."