29 Nov 2018
Oxbotica, AXA XL and Nominet to bring autonomous cars to London roads before Christmas
Move marks a major step for DRIVEN consortium's plan to have a fleet of fully autonomous cars completing trials on roads between London and Oxford in 2019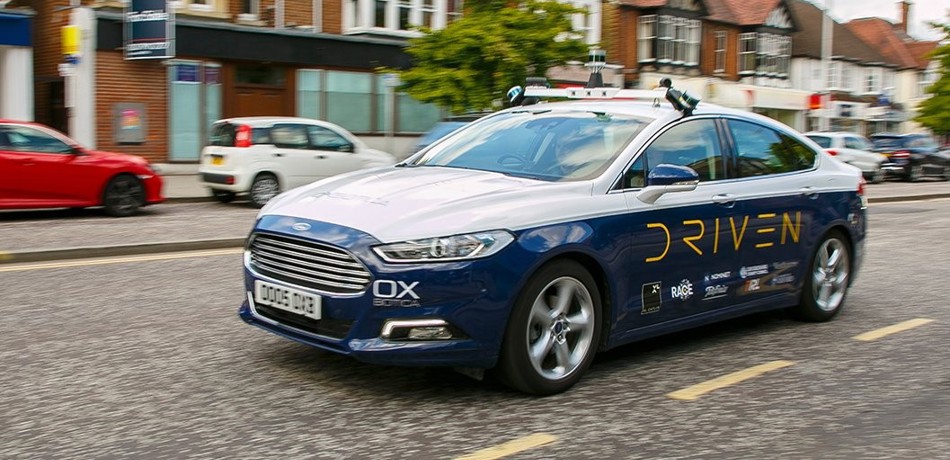 On 25 November 2018 the DRIVEN consortium, led by Engineering Science spinout company and autonomous vehicle software provider Oxbotica, announced it will commence trials on London's roads following successful ongoing trials in Oxford. The vehicles will be mapping the streets of Hounslow and are expected to be autonomous by Christmas 2018.
During the trials, Nominet and AXA XL will be testing data transfer, making this the most all-encompassing autonomous vehicles trial to date.
The trials will start with mapping the streets of Hounslow, selected for being an outer London Borough and its role as a key link between Oxford and London.
The data gathered during these trials will provide vital information to support the consortium's plans to run a fleet of autonomous vehicles between Oxford and London in 2019. In the lead up to this, London trials will continue until Summer 2019.
The mapping process means Oxbotica will be gathering data to help understand the contents of street signs, and the meanings of lane markings on the road to enable vehicles to be as knowledgeable as a local resident about the complexities of each street. This process will be repeated many times, and at different times, improving the understanding of how the streets change in different lighting conditions, weather and seasons of the year.
To conduct the mapping, the vehicles are fitted with a wide variety of technology including Oxbotica's Selenium autonomy software, radar, lidar sensors, on board computers, and cameras.
As with all trials undertaken by DRIVEN, there will always be a fully qualified safety driver behind the steering wheel. They sit alongside an engineer monitoring the vehicle's functions in the car.
This marks a major project milestone for the DRIVEN consortium, an Innovate UK-backed research project formed of the Oxford Robotics Institute, AXA XL, Nominet, Telefonica, TRL, the UK Atomic Energy Authority's robotics centre RACE, Oxfordshire County Council (OCC), Westbourne Communications and Transport for London (TfL).
Benefiting from an £8.6 million grant awarded by Innovate UK, it is an ambitious project that is looking beyond what makes one car autonomous, instead exploring what more could be done with an entire fleet.
Oxbotica has been engaging with OCC and TfL to discuss roads for trials, liaising with emergency services, and informing local stakeholders such as the London Borough of Hounslow. Building on the success of DRIVEN's autonomous trials that have been underway for several months on the streets of Oxford, the trials in London will happen simultaneously to those already taking place in Oxford city centre.
As Oxbotica's insurance partner and the only insurance company involved in DRIVEN, AXA XL, a division of AXA, will insure the trial. Meanwhile, Nominet will be testing data transfer between vehicles and consortium partners as part of the development of a robust cyber security model for this technology. This is the first time these innovations will be trialled on London roads.
Commenting on this latest milestone for DRIVEN, Dr Graeme Smith, Chief Executive of Oxbotica, said: "Being autonomous before Christmas will showcase the huge amount of work Oxbotica's expert team of engineers has completed since the DRIVEN consortium was established.
"These trials further demonstrate to the wider UK public that connected and autonomous vehicles will play an important role in the future of transport. This milestone shows the advanced state of our capabilities and firmly keeps us on the road to providing the technology needed to revolutionise road travel."
Russell Haworth, CEO, Nominet, added: "Our role developing and strengthening the understanding of data flow and security within the backbone infrastructure needed for autonomous vehicles is vital if driverless cars are to become a mainstream reality. This next phase for DRIVEN ensures we are a step closer to achieving that goal as we find solutions and push the boundaries and perceptions of the technology required to make it happen."
Follow the consortium on Twitter @DrivenbyAI