19 Oct 2023
Engineering Science DPhil honoured with Robotics Award
Siddhant Gangapurwala earnt the prestigious Queen Mary UK Best PhD in Robotics Award at the TAROS 2023 conference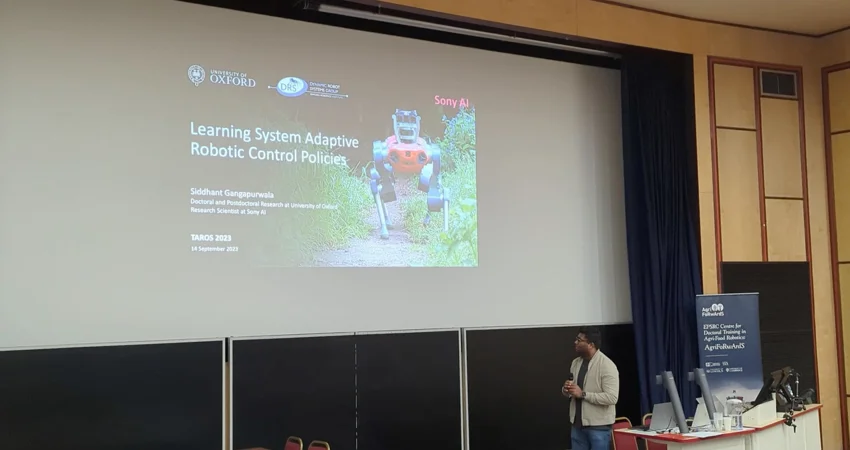 Siddhant (Sid) Gangapurwala, a former DPhil graduate from the Oxford Robotics Institute and now a Research Scientist at Sony AI, has been awarded the prestigious Queen Mary UK Best PhD in Robotics Award for 2023. Siddhant's journey in the field of robotics began in 2017 when he embarked on his doctoral research at the ORI, as part of the Dynamic Robot Systems group (DRS) under the supervision of Professor Ioannis Havoutis.
Siddhant was a student with the EPSRC Autonomous Intelligent Machines and Systems CDT (AIMS) and his focus on using Machine Learning techniques, particularly Deep Reinforcement Learning, for the control of underactuated robots paved the way for groundbreaking contributions in the realm of robotics.
The Queen Mary UK Best PhD in Robotics Award, sponsored by the Centre for Advanced Robotics @ Queen Mary (ARQ), is a testament to Siddhant's exceptional dedication and innovative research in robotics. This award is a recognition of his outstanding contributions to the field and his unwavering commitment to advancing the world of robotics. The competition, which is open to all candidates who successfully completed their PhD at a UK university on a robotics-related topic in the current year, is highly competitive.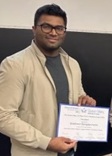 Furthermore, Siddhant, as the first-place winner, was invited to present his groundbreaking work at the 2023 TAROS conference. This platform allowed him to showcase his research to a wider audience of fellow experts and enthusiasts in the robotics community.
Siddhant's dedication and contributions to the field of robotics have been recognised and celebrated, and we can't wait to see what groundbreaking innovations he will bring to the world of AI and robotics in the future.