20 Nov 2018
Oxford iGEM team wins GOLD - again!
Project to develop a novel treatment for Inflammatory Bowel Disease wins International Genetically Engineered Machine competition for interdisciplinary team of students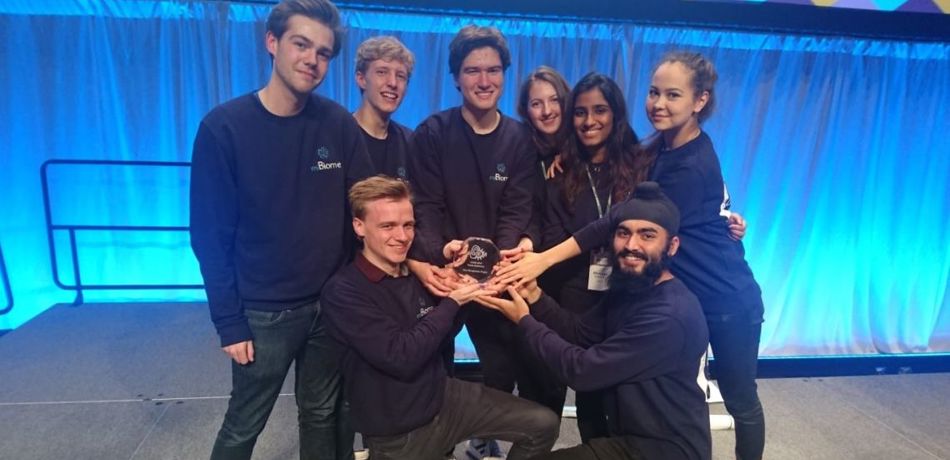 The 2018 Undergraduate Oxford iGEM team, including two Engineering Science students, have been awarded a Gold medal and the award for Best Therapeutics Project, along with three other award nominations. Oxford teams have enjoyed a winning streak at iGEM, gaining gold medals in 2014, 2016 and 2017.
The iGEM (International Genetically Engineered Machine) competition gives interdisciplinary teams of students the opportunity to push the boundaries of synthetic biology whilst tackling everyday issues facing the world.
This year more than 300 teams from over 40 different countries spent the summer combining wet lab experimental work with modelling and human practices to deliver on their project goals, before convening in Boston to present their data to over 3000 people and be judged on their performance. The Oxford team worked on miBiome, a project to develop a novel treatment for Inflammatory Bowel Disease.
The team, made up entirely of first and second year students, consisted of two Engineering Science students: Adrian Kozhevnikov (Magdalen) and Arman Karshenas (Balliol); five Biochemists: Bhuvana Sudarshan (Oriel), Jhanna Kryukova (St Hugh's), Joe Windo (Lady Margaret Hall), Jon Stocks (Univ) and Max Taylor (St Hilda's); a Medic: Ellie Beard (St Anne's); a Chemist: Karandip Saini (Queen's); and a Biological Scientist: Laurel Constanti Crosby (St Catherine's).
Inflammatory Bowel Disease (IBD) is characterised by chronic inflammation of the intestine and is associated with an imbalance in immune cell populations. Existing immunosuppressive therapies, when successful, often elicit systemic side effects and require frequent readministration. The team's solution offers a non-invasive, self-tuning therapeutic for IBD, with potential to replace conventional immunosuppressants in the treatment of gastrointestinal autoimmune disorders.
The Oxford team picked up as many awards and nominations as all the 13 other UK teams put together, reflecting the strength of the science base at an undergrad level within the University.
Article adapted from the MPLS website.