14 Feb 2022
OxVent ventilator set to be manufactured at-scale
OxVent, a rapidly deployable and scalable low-cost ventilator, has been approved for development at scale paving the way for its use as a social enterprise.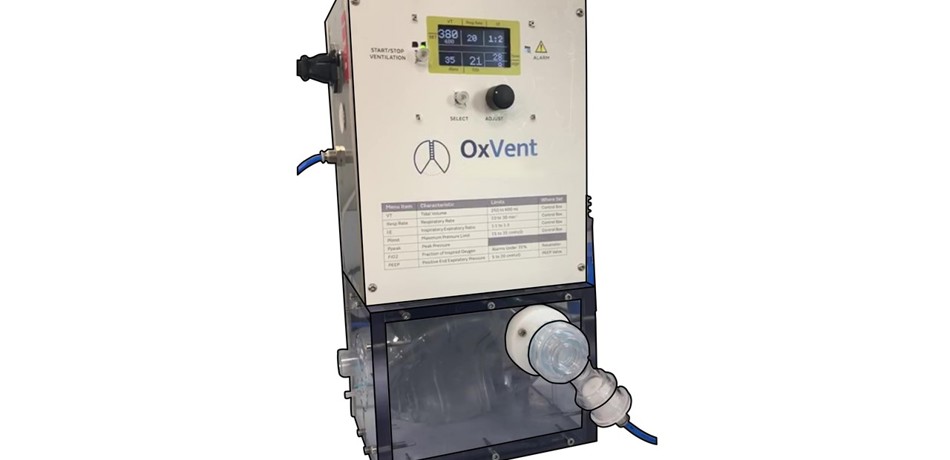 Created by a team from the University of Oxford in collaboration with King's College London, the OxVent ventilator was designed especially for COVID-19 in response to the UK Government's 'Ventilator Challenge' to address the potential shortage of ventilators caused by the pandemic.
OxVent Social Enterprise has now achieved ISO 13485 certification for its quality management system. This ISO certification is the best internationally accepted model a medical device organization can implement to help demonstrate compliance to laws and regulations of the medical device industry.
OxVent Ltd is fully approved for design, development, manufacturing and distribution. The OxVent team are preparing a submission for FDA approval.
The OxVent ventilator design and verification testing results are now published in EBioMedicine. OxVent Ltd aims to transfer the designs and manufacturing systems to organisations in low- and middle-income countries (LMICs) where expensive ventilators are unaffordable and unsustainable. The social enterprise focuses on the pressing need to provide rapidly deployable, scalable and low-cost ventilators.
Associate Professor in Engineering Science Mark Thompson, Founding Director of OxVent Ltd, says: "It is fantastic to see the OxVent team of engineers and medics receive high impact academic recognition of their exceptional work. The OxVent social venture is founded on the technical skill showcased in the publication and carries this forward together with the humanitarian motivation to make low-cost ventilators available where they are most needed".
The team is now currently seeking Food & Drugs Administration (FDA) approval in the US in order to allow for easier adoption in 25 LMICs.
Dr Federico Formenti, Reader in Physiology in the Faculty of Life Sciences & Medicine at King's College London and non-executive director said: "The engineering design of the OxVent mechanical ventilator offers a high level of performance at a relatively low cost. The OxVent Social Enterprise is now leading the work to provide greater mechanical ventilation capacity in low-resource settings".
The system was designed to fill the gap between expensive complex commercial ventilation systems and basic open-loop systems that lack sensors, feedback control or alarms.
It provides the necessary level of performance for an emergency ventilator, while being scalable and affordable.
The team of engineers, medics and manufacturers partnered with Smith+Nephew to translate the academic prototype into a safe, reliable and manufacturable product.
Professor Sebastien Ourselin, Head of School of Biomedical Engineering & Imaging Sciences at King's College London and non-executive director at OxVent Ltd said: "The OxVent ventilator is now a highly evolved medical device which has the technical capability to provide much-needed support in areas of the world where access to life-saving medical technologies is limited. By design the ventilator allows for simple set-up, overcoming challenges posed by a lack of resources. The OxVent Social Enterprise is a prime example of how UK healthcare engineering partnerships are able to respond swiftly together to acute needs and rapidly innovate patient care solutions".