09 Dec 2021
Professor Barbara Rossi awarded ICE Carbon Champion status for New College Quadrangles project
The Gradel Quadrangles is a major project which will provide new living and working spaces for undergraduates in a stunning architectural setting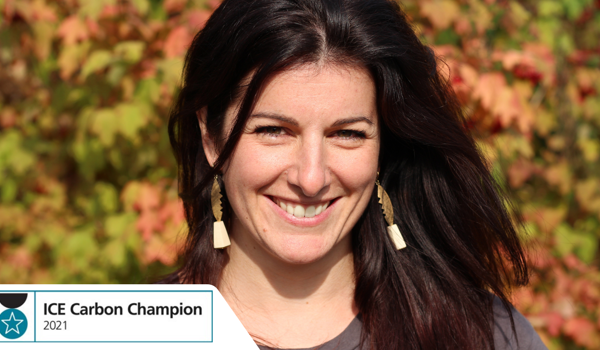 As Sustainability Fellow at New College, Professor Barbara Rossi was instrumental in the successful application for ICE Carbon Champion status for the new quadrangle development at the college.
Professor Barbara Rossi's research takes a focus on the role of metals in structures to improve the construction sector sustainability and resilience and she was an obvious choice to be the sustainability Fellow of New College. As such, she is supervising the sustainability aspects of the new Gradel Quad project during the design and construction process.
The Gradel Quad is a major project to provide new living and working spaces for undergraduates in a stunning architectural setting, designed by David Kohn Architects. It was designed to meet the quality and life span currently achieved within the Holywell Street Quad i.e., > 100 years. The Gradel Quad project team has implemented numerous measures to integrate sustainability throughout the construction process and has considered a wide range of factors for both the construction and the operational stages.
The emphasis was put on the durability and local sourcing of key construction materials, massive use of recovered materials as replacement of cement, quality of execution, and compliance with the Passivhaus Standard. The external skin to much of the buildings will be clad in Ancaster 75mm limestone quarried in the UK, South Yorkshire. Through detailed 3D modelling, the external cladding will be processed off-site, with each stone bring carefully carved into its exact geometrical proportions, therefore no on-site stone cutting will be required. In addition, a timber roof structure supporting a tessellated Aluminium tiles cover has been adopted in lieu of concrete roof structure which offered significant carbon savings to the project.
Professor Rossi leads the Sustainable Metal Structures Research Group at the Department of Engineering Science, looking at the behaviour of metal structures under different loads and environments, with the objective of reaching a highly efficient design whilst maintaining reliability. Over the last 10 years, Professor Rossi has become an expert in the area of life-cycle analysis and sustainability applied to steel construction, which enables her to influence policy and decision-making processes more broadly.
Her research focuses on metals such as ultra-high strength steel and stainless steel. She explains,"Metals have the potential to reduce the depletion of non-renewable resources, the energy consumption during manufacturing, and avoid end-of-life disposal impacts". Professor Rossi is convinced that part of the response to today's societal challenges towards meeting Net Zero will require engineers and researchers to work more closely to re-think the way structures are built and that means using more metals more efficiently and more broadly.
The Institution of Civil Engineers launched the Carbon Champion programme in 2021 to 'recognise decarbonisation efforts from across the civil engineering community and provides recognition for project owners as well as best practice insights and expertise for the wider industry'.
Professor Rossi says, "I am immensely proud to be part of this project team. This represents recognition of our huge efforts to design and build with sustainability as a key driver. By identifying this project as a Carbon Champion, ICE not only rewards us for our efforts but places our work on the wider scene, showcasing sustainability in construction".