10 Mar 2023
Professor Constantin Coussios receives OBE from HRH The Princess Royal
IBME Director appointed as an Officer of the Most Excellent Order of the British Empire (OBE) in the 2022 Queen's Birthday Honours list for his services to Biomedical Engineering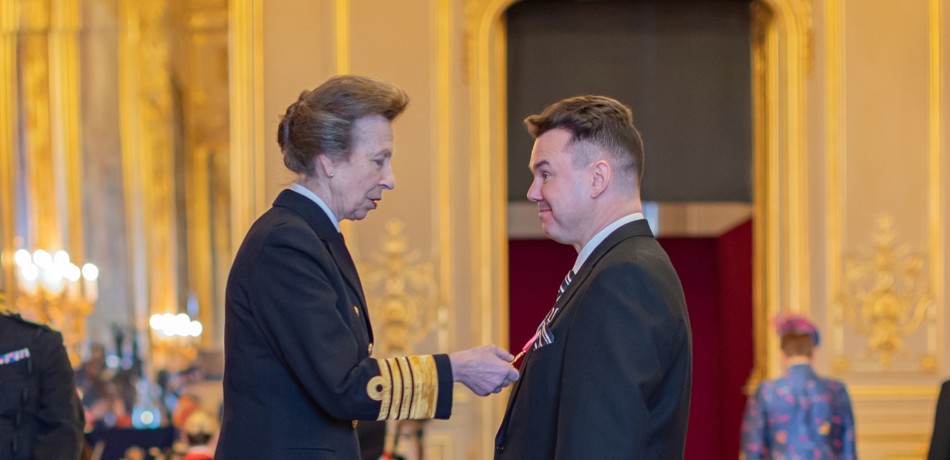 Professor Constantin Coussios FREng received his OBE from HRH, the Princess Anne, during an investiture ceremony at Windsor Castle on Tuesday 28th February 2023. He was appointed as an Officer of the Most Excellent Order of the British Empire (OBE) in the 2022 Queen's Birthday Honours list for his services to Biomedical Engineering. A Fellow of Magdalen College he was elected in 2011 as the University of Oxford's first Statutory Chair in Biomedical Engineering, and has served as Director of the Institute of Biomedical Engineering since 2016.
He founded and heads the Biomedical Ultrasonics, Biotherapy and Biopharmaceuticals Laboratory (BUBBL) and serves as the Founding Director of the new Podium Analytics Institute for Youth Sports Medicine and Technology at the University of Oxford. In 2008, working with Professor of Transplantation Peter Friend, he co-founded OrganOx Ltd., and led the engineering development of the world's first normothermic liver perfusion device for improved organ preservation prior to transplantation (Nature 2018) from laboratory concept to regulatory approval and clinical adoption in Europe and North America. He subsequently led the engineering development of the first normothermic kidney device capable of 24-hour perfusion, currently in clinical trials in Oxford under support from the National Institute for Health Research.
In 2014, he was the lead academic founder of OxSonics Ltd., which exploits ultrasound and bubbles to enhance drug delivery to tumours, a technique which has recently entered clinical trials under support from the National Institute for Health Research to treat patients with metastatic colorectal cancer. In 2016, he co-founded OrthoSon Ltd., which is developing a new minimally invasive technique for percutaneous restoration of the intervertebral disc to treat lower back pain. In 2017, he received the Silver Medal of the UK's Royal Academy of Engineering for his contributions to the translation of novel medical technologies into clinical practice, and was elected a Fellow of the Royal Academy of Engineering in 2019.
He says, "No honour has ever surprised me more. I am extremely grateful to my amazing students and academic colleagues within the University, to my fantastic co-workers within OrganOx, OxSonics and OrthoSon, and to the extraordinary Oxford biomedical innovation ecosystem for enabling the generation and successful translation of new engineering and cross-disciplinary technologies from bench to bedside".
Professor Coussios received his BA, MEng and PhD in Engineering from the University of Cambridge, where he was the last doctoral student of distinguished acoustician Professor John (Shôn) FFowcs Williams. Following post-doctoral appointments with Professor Christy Holland at the University of Cincinnati and with Professor Ron Roy at Boston University, Professor Coussios joined Oxford as the first faculty appointment in biomedical engineering in 2004. He received the UK's Institute of Acoustics' Young Person's Award for Innovation in Acoustical Engineering in 2007, was elected as Secretary-General of the International Society for Therapeutic Ultrasound between 2006-2010 and was honoured with the Society's Fred Lizzi award in 2012. He was elected as the youngest ever Fellow of the Acoustical Society of America in 2009, and received the Society's Bruce Lindsay award in 2012.