11 Apr 2023
Professor Molly Stevens FREng FRS joins University of Oxford as John Black Professor of Bionanoscience
Professor Stevens's research has been instrumental in addressing some of the major healthcare challenges of our time, contributing a broad portfolio of biomaterials for applications in disease diagnostics and regenerative medicine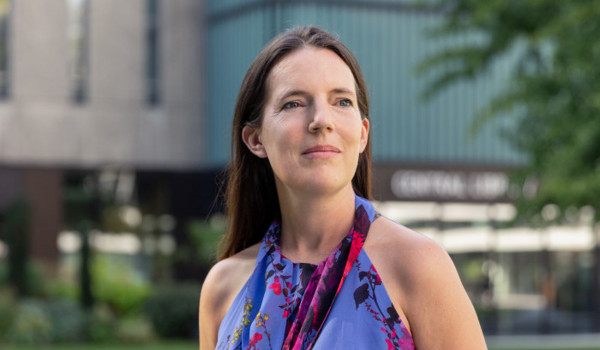 The Department of Engineering Science is delighted to welcome Professor Molly Stevens FREng FRS, as she takes up the post of John Black Professor of Bionanoscience in the Department of Physiology, Anatomy and Genetics from 1 April 2023. Professor Stevens will also be an affiliated member of the Institute of Biomedical Engineering (IBME) and a member of the Department of Engineering Science.
Professor Stevens joins the University of Oxford from Imperial College London where she is Professor of Biomedical Materials and Regenerative Medicine at the Department of Materials and the Department of Bioengineering and the Research Director for Biomedical Material Sciences at Imperial's Institute of Biomedical Engineering. She is also Professor of Biomaterials and Regenerative Medicine at the Karolinska Institutet in Stockholm.
Professor Stevens' research has been instrumental in addressing some of the major healthcare challenges of our time, contributing a broad portfolio of biomaterials for applications in disease diagnostics and regenerative medicine. The research has been recognised by over 30 international awards including the 2023 Novo Nordisk Prize, and has led to several spin-out companies.
Professor Constantin Coussios OBE FREng, Director of the Institute of Biomedical Engineering, said: "We are delighted to welcome Professor Stevens to Oxford. Her appointment is highly complementary to the major focus area of biomedical engineering in which the University has invested continuously since the creation of the Institute of Biomedical Engineering on the Old Road Campus in 2008."
"Molly has world-leading expertise in the general area of cell-material interfaces and the development of novel nanobiomaterials for advanced diagnostics and personalized medicine. This unique skillset bridges a gap that currently exists in the Oxford ecosystem between basic science in biochemistry, chemistry and biology and the highly translational nature of the research occurring within the IBME."  
The Stevens Group will be based in the Kavli Institute for Nanoscience Discovery.