13 Aug 2019
Robotics team showcase robot's 'human support' capabilities at Sydney's RoboCup contest
Team ORIon's robot competed with international teams to successfully take out the rubbish and other household tasks.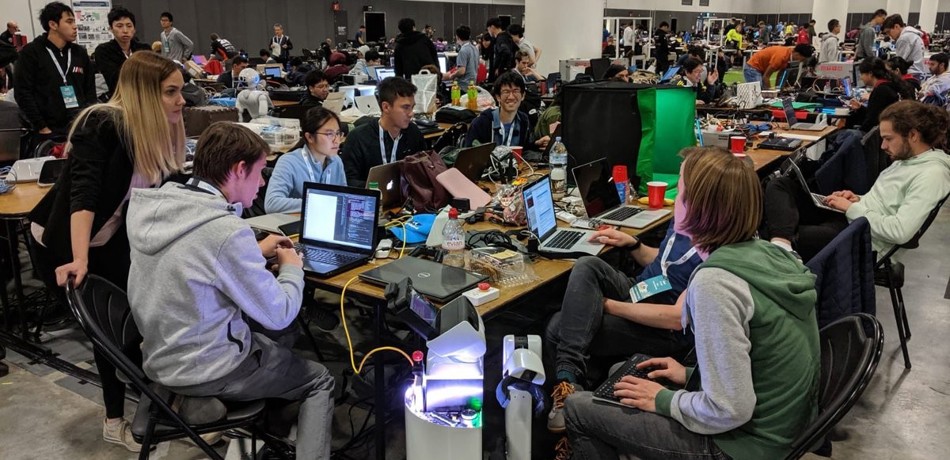 This July, a team from the Oxford Robotics Institute (ORI) competed in their first RoboCup, an annual international robotics competition held in Sydney, Australia. With 13 different leagues attracting teams from around the globe, it is one of the world's largest robotics events.
Comprising Engineering undergraduates, DPhil candidates and postdocs, Team ORIon previously competed at last year's World Robot Summit in Tokyo, Japan. They spent the intervening months developing and refining their Toyota Human Support Robot (HSR) to give themselves the best possible chance of success at RoboCup.
DPhil student Mark Finean, who led the nine-person team, explains: "We competed in the '@Home' league, which requires the robots to assist humans in household environments such as a living room or a kitchen. The tasks included storing groceries, carrying luggage and taking out the garbage.
"To excel required a combination of all of the robot's capabilities, including navigation, task-level planning, manipulation, voice recognition, and vision."
Team ORIon received a round of applause from the audience when their HSR succeeded in autonomously taking out the garbage. "This was a highlight of the competition for us," Mark reflects. "Many teams stumbled at this final hurdle as the garbage bag would get caught on the robot's gripper. This was no problem for us as we implemented functionality to detect whether the bag could still be felt after letting go. If the bag could be detected then the robot would shake its gripper appropriately to remove it."
You can watch the video of that moment here.
After an intense week of programming, testing, and integrating, Team ORIon finished in 6th place out of 10 with a total score of 600, missing out on the semi-finals by just one place. The team earned points for successfully taking out the garbage and for an impressive poster and presentation session delivered by their undergraduate members. Mark says: "This is just the beginning of our journey and we will definitely be back for more next year!"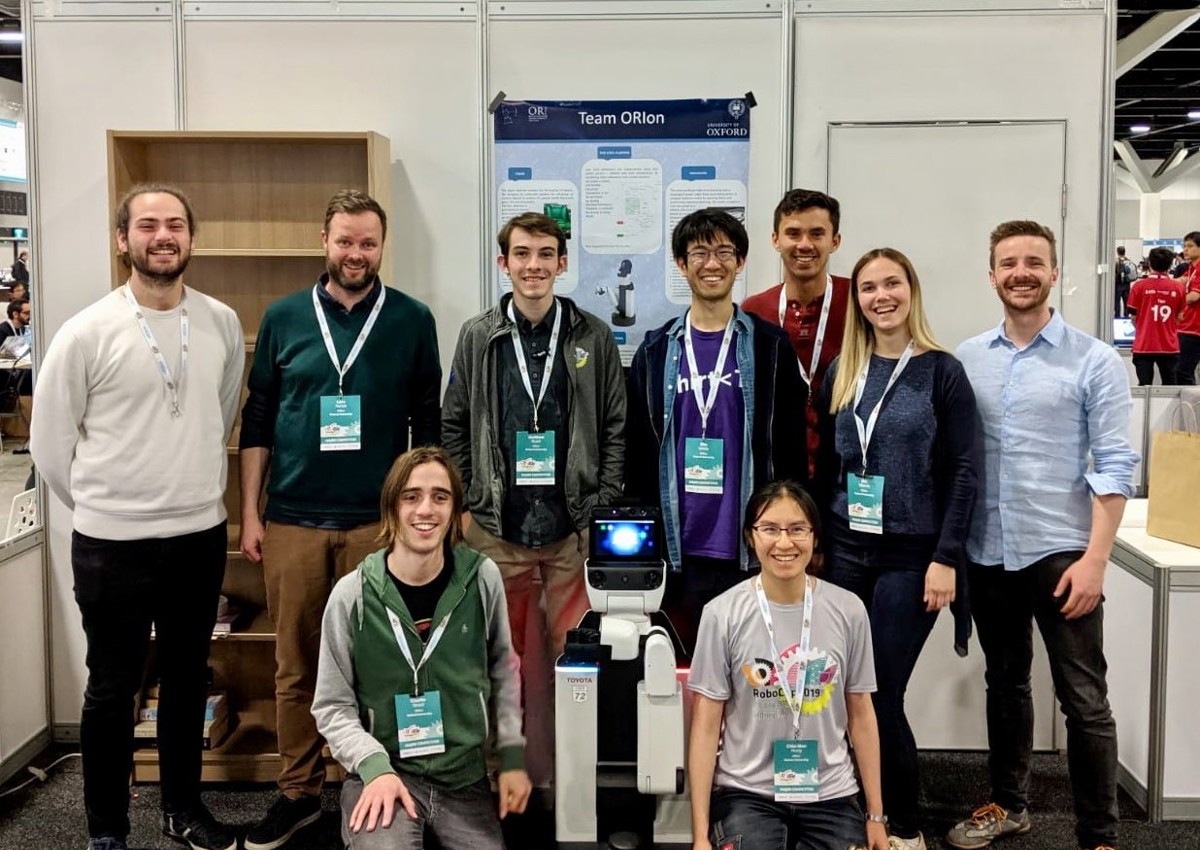 Undergraduate team member Mia Mijović says: "As a first-year student, being given an opportunity to be at RoboCup 2019 was extremely important. Working with a team consisting of both graduate and undergraduate students meant that we had different levels of experience, but it also sometimes meant more different ideas on solving certain problems."
"The most important thing to me in this entire process was the amount of knowledge I gained. Learning while working on it at Oxford was useful, but actually being at the competition, solving real-time problems that occur, having to collaborate with everyone on the team at the same time and doing all that and many other things under time pressure was a completely different experience."
"RoboCup was an inspiring and rewarding experience"
Third-year Shu Ishida added: "RoboCup was an inspiring and rewarding experience. It was very different from the undergraduate lab work where we only have a couple of hours to a week at most to try to solve a problem. There were a series of challenges to be overcome to accomplish our tasks, which kept us thinking and coding months before the actual competition. The best part of the competition was that we undergraduates had a valuable opportunity to work alongside graduate team members."
The team would like to thank the Oxford Robotics Institute, the AIMS CDT and the Department of Engineering Science for their support.
Team ORIon is always looking for new, enthusiastic members. If you are interested in joining then please get in touch via the Team ORIon twitter or email mfinean@robots.ox.ac.uk