09 Nov 2021
Novel approach to treating Parkinson's Disease using low-intensity ultrasound wins award
Professors Tim Denison and Robin Cleveland have been awarded the Rosetrees Trust Interdisciplinary Award 2021 to support innovative research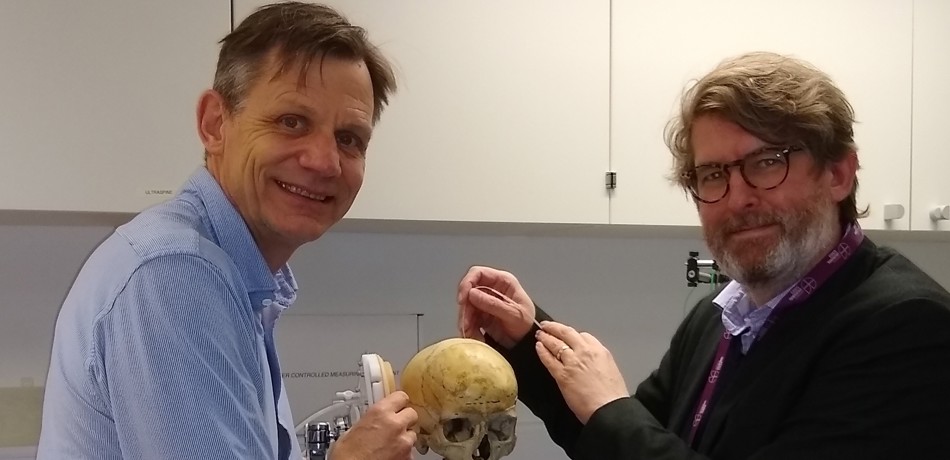 A novel approach to treating Parkinson's Disease has won the Rosetrees Trust Interdisciplinary Award 2021.
The prestigious 3-year award goes to Professor Robin Cleveland and Professor Timothy Denison of the Institute of Biomedical Engineering and Associate Professor Alex Green (Neurosurgery, University of Oxford) in collaboration with Dr Christopher Butler (Brain Sciences, Imperial College). It will support their innovative research into the use of low-intensity ultrasound to treat Parkinson's Disease patients by targeting and modifying abnormal brainwaves.
Professor Cleveland, Professor of Engineering Science, says, "Very promising results over the past few years suggest that low-intensity non-invasive ultrasound can modulate brain function but the mechanisms are poorly understood.  By teaming with Professor Denison we can employ state-of-the-art brain sensing technology to directly assess how ultrasound modulate brain networks which will be an important step in translating ultrasound technology to help patients."
Initially, the research teams will focus on Parkinson's Disease patients who have brainwave monitoring devices implanted in the brain. Future planned research will be on the use of low-intensity ultrasound to treat chronic pain and other brainwave-associated conditions.
Professor Denison, RAE Chair in Emerging Technologies, says, "The embedded sensing capability of emerging brain devices provides a new 'window' for clinician-researchers to see how non-invasive therapeutic methods interact with brain networks in real-time. While the sensing systems were originally designed to provide insight into how implanted stimulation works, they can also be repurposed for other stimulation methods. We hope this novel technology will provide a translational bridge for the refinement of less invasive disease therapies." 
The aim of the annual Rosetrees interdisciplinary award is to encourage new collaborative studies between researchers in different fields to make advances that will achieve real benefits to patients. This year's award is for a collaboration between medicine and engineering.