23 Apr 2019
Schmidt Science Fellowships aim to develop leaders tackling world's most significant problems
The announcement of this year's Schmidt Science Fellows includes a pioneering DPhil candidate from the Department of Engineering Science.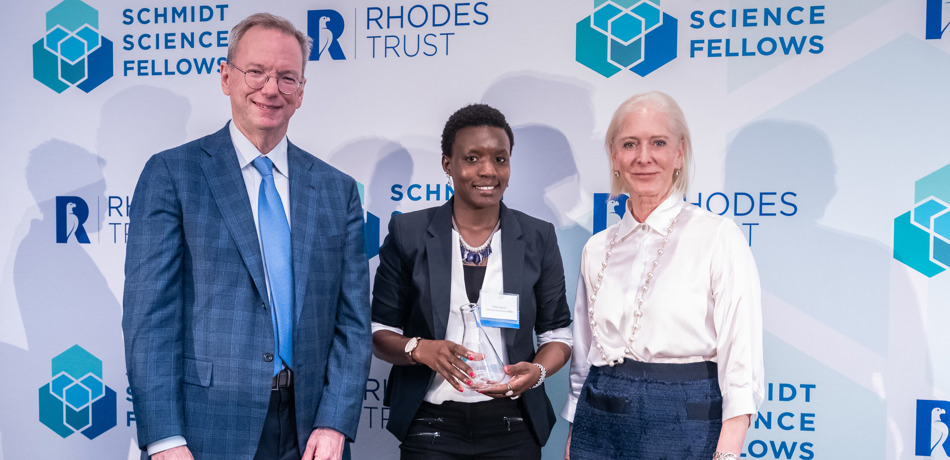 Gladys Ngetich is among the early-career researchers announced for the 2019 cohort of Schmidt Science Fellows. Her work is in advanced cooling processes for jet engines, which it is hoped could help develop more efficient and less environmentally damaging aircraft engines.
This is the second year of the Fellowship programme, which aims to develop interdisciplinary science leaders who can tackle the world's most significant problems. They look for the brightest minds in the natural sciences, mathematics, engineering, and computing, and provide them with new skills and perspectives to develop novel solutions to society's challenges, become scientific and societal thought leaders, and accelerate ground-breaking discoveries. The new Fellows are planning to take on global challenges areas spanning health, the environment, clean energy, computer science, smart materials, and many more. As a Schmidt Science Fellow, Gladys will move into the application of space science technologies, such as satellite imaging and sensing, to support sustainable development goals.
The Fellows will join a new, world-leading research environment immediately after the completion of their PhD studies. This will represent a disciplinary change from their current work, exposing them to new ideas and techniques from different scientific disciplines. The Fellows receive mentoring from world-leading scientists, as well as a stipend of $100,000.
Rhodes Scholar Gladys, from Kenya, works out of the world-leading Oxford Thermofluids Institute. Alongside her research, she tutors undergraduates at Oriel College, achieved the Oxford Blues in the 400m Hurdles and Half-Blue in the 100m Hurdles, and co-founded ILUU, an organisation dedicated to inspiring, mentoring and empowering girls from rural parts of Kenya.
"I am absolutely honored to have made it to the list of this year's Schmidt Science Fellows," she says. "I sincerely thank the Schmidt Science Fellowship team in collaboration with The Rhodes Trust for this special chance that will enable me to hone both my engineering research skills and leadership skills."
Eric Schmidt, Co-Founder of Schmidt Futures and Chairman of Alphabet, Google's parent company, commented: "Our mission at Schmidt Futures is to bet early on talented people who hold the promise of making the world a better place. That is what the Schmidt Science Fellows program is all about. This new class of Fellows represent some of the best aspiring minds in science and technology today, and we look forward to helping them harness these gifts for the betterment of society."
"We are tremendously excited to welcome this new class to the growing community of Schmidt Science Fellows," said Wendy Schmidt, Co-Founder of Schmidt Futures. "They are truly exceptional in their insight, intellect, and eagerness to work across scientific disciplines and pursue discovery in unprecedented ways. We cannot wait to see what they will accomplish in the years to come."
The Oxford Thermofluids Institute, where Gladys is based, is a world leader in the field of turbine technology, with current research grants exceeding £30 million and partnerships in place with Rolls Royce, Siemens and Mitsubishi Heavy Industries.
Home to some of the most sophisticated turbine research facilities in the UK, their work has important real-world applications; in the case of the Rolls Royce Trent 1000 turbine (which powers the Boeing 787 Dreamliner), the team's research into fuel efficiency contributed to the design of the engine and helped deliver emissions reductions of over 6m kg of CO2.