14 Jun 2019
School students experience Oxford as part of 2019 Lubbock Lecture
Each year, the Maurice Lubbock Memorial Lecture sees an audience of academics, students and alumni come together to hear a world-leading engineer discuss their work. Also joining us each year is a group of sixth-form students, all of them making decisions about their future and ready to be inspired by the thought of a career in engineering.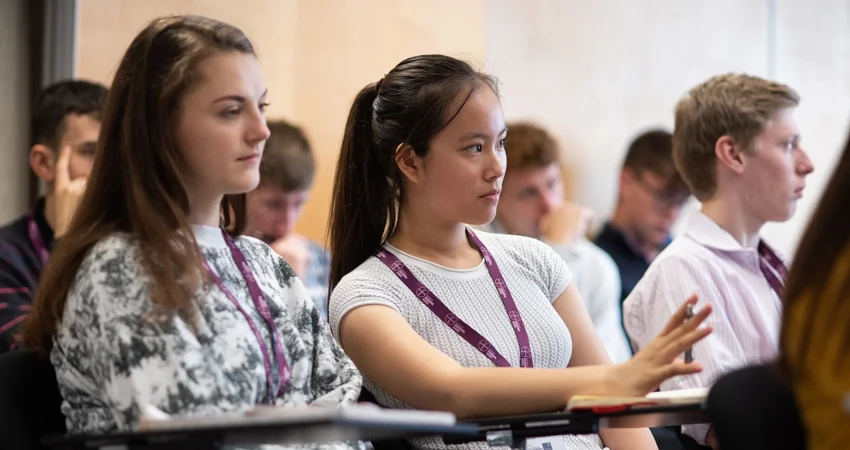 Teenagers from schools across the country are invited to apply for a place on the Lubbock Lecture for Schools programme. This year, 28 students spent the day getting a student's eye view of life at Oxford, with the help of a few of our current undergraduate Student Ambassadors.
The day's activities saw the young people touring Keble College for a taste of Oxford life, judging one of our Fourth Year Project Poster Prizes that are given out annually, and exploring the various labs spread across eleven floors of the Thom Building.
Access and Alumni Officer Libby McGowan led the activities arranged for the young people taking part. "It was really inspiring to spend the day with a group of young people so enthused by the possibilities offered by a career in engineering," she said.
"They had the chance to hear from current undergraduates about what it's really like to study here, and I know that our student ambassadors enjoyed speaking to a group of young people making the same decisions they had to just a few years earlier."
"The pupils also took part in a Q&A with Dr Sophie Mougard, who delivered this year's Lubbock lecture. They especially liked her advice that engineering is at its best when paired with other endeavours. Sophie told them that she attends the opera and practices ballet, and that these both help her to think creatively about how to solve problems; it was great for the students to see how engineering could pair with their own interests."
Following their Q&A, the students joined the invited audience in the lecture theatre to watch Sophie's lecture – which, appropriately, focussed on the future of engineering. We hope to see some of them join us again as undergraduates in Engineering Science!
We'll have plenty more opportunities to get involved coming up soon. Ranging from the University Open Days to our celebrations around Women in Engineering Day, there's sure to be something of interest to you. Take a look at the full programme or read more about this year's Maurice Lubbock Memorial Lecture.