09 Aug 2022
Seed funding to enable feasibility testing of tool to estimate risk of gastrointestinal cancer
Royal Academy of Engineering Research fellow Dr Tingting Zhu is part of a multi-institutional collaborative team which has received the funding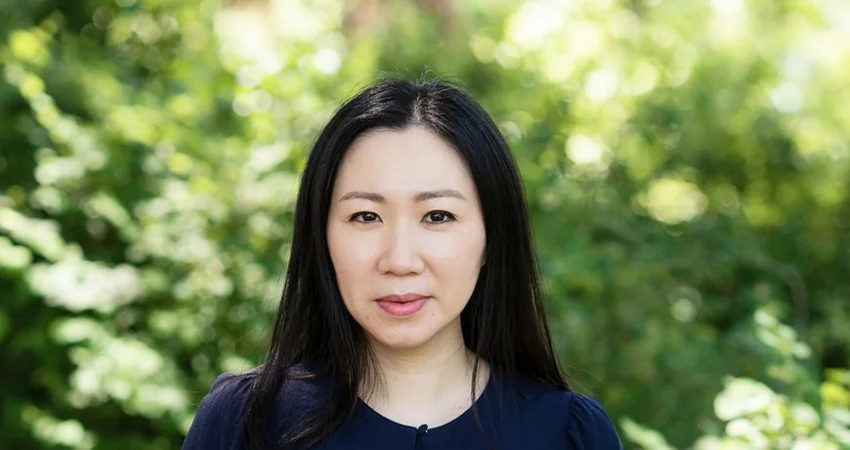 Most cancers are diagnosed after a visit to primary care. Cancers that are diagnosed earlier are likely to have better outcomes and so rapid referral of patients presenting with suspected cancer symptoms for further investigation in secondary care is important. New tests or combinations of existing tests that can be used in primary care to identify patients at most risk of having cancer would help guide GPs in their clinical decision-making and reduce diagnostic delays in primary care.
Dr Tingting Zhu's team at the Department of Engineering Science is developing the artificial intelligent (AI) component of a multi-institutional collaborative project that has won seed funding to enable feasibility testing of a tool to estimate the risk of developing gastrointestinal cancer. The MAARS team is made up of members from different institutions with a diverse expertise, including Professor Hippisley-Cox (Nuffield Department of Primary Care Health Sciences, who is leading the project), Dr Jun Wang (Queen Mary University of London), Professor Konstantin Nikolic (University of West London), Dr Robert Kerrison (University of Surrey) and Dr Joe Geraghty (Manchester Royal Infirmary).
Dr Zhu says, "It is super exciting to be part of a project to develop an adaptive interpretable decision-making tool can enable early diagnosis of gastrointestinal cancer and improve patient outcomes. My team will focus on the development of novel machine learning methods for the project, where we will analyse routinely collected anonymised NHS linked multimodal data of patients in the UK who have presented to the GP in the past five years".
The Early Detection Innovation Sandpit and Award, funded by CRUK-MRC-EPSRC, aims to catalyse new multidisciplinary collaborations to drive forward novel test technologies or novel test combinations for primary care triage.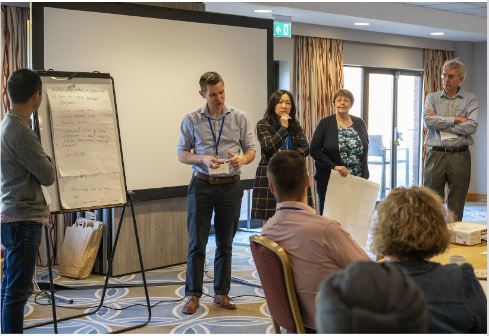 A recent workshop (pictured left) convened by Cancer Research UK (CRUK), the Medical Research Council (MRC) and the Engineering and Physical Sciences Research Council (EPSRC) brought together multidisciplinary researchers to develop ideas for new tests or tools in primary care that aim to enhance cancer risk stratification.
The MAARS team pitching the project to the panel. From left to right, Jun Wang, Joe Geraghty, Tingting Zhu, Julia Hippisley-Cox, and Konstantin Nikolic.
The proposed project, entitled "Multimodal active adaptive risk stratification for gastrointestinal cancer" (MAARS), aims to determine if active adaptive interpretable decision-making tools can be generated using NHS linked multimodal data to enable early diagnosis of gastrointestinal cancer. Current risk scoring systems, such as QCancer (developed by Professor Hippisley-Cox and her team), only provide static risk estimates based on a patient's clinical characteristics and symptoms and do not incorporate the results of blood tests or scans that patients may receive as they progress further along a clinical investigative pathway. Using advanced data analytics, such as AI machine learning methods, the MAARS team will identify the tests/diagnoses that are most useful for clinical decision-making. Using this information, they will develop and validate an active adaptive risk assessment tool to generate a personalised risk score that can be updated as a patient progresses along a clinical pathway.
Dr Zhu adds, "Building on our recent work which was published at the thirty-ninth International Conference on Machine Learning 2022, we will develop a data-driven interpretable risk tool to generate personalised clinical phenotypes linked to appropriate clinical pathways. Such phenotypes will help to target resources to those at highest risk of having cancer, enabling earlier diagnosis, and to identify patients at lowest risk who can be safely reassured. As the patient progresses along the clinical pathway, their risks will be updated accordingly. Our tool will incorporate the results of investigations, tailored to individuals to improve decision making."
More information about the Sandpit