29 Jun 2022
Students share their work at Europe's leading energy efficiency conference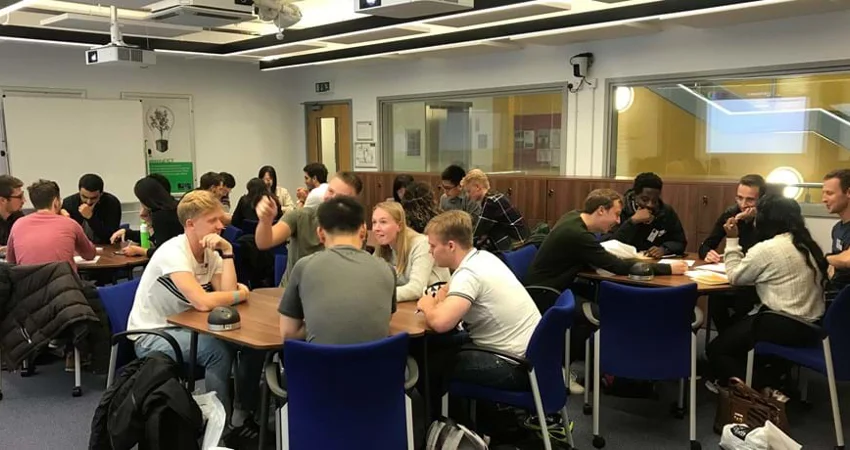 Students from the Department of Engineering Science shared their research at Europe's leading energy efficiency conference, organised by the European Council for an Energy Efficient Economy (ECEEE).
In 2022, the European Energy Efficiency Conference presented the far-reaching transformation of policies, technologies and markets for achieving climate neutrality, and how to raise the pace of change.
MSc in Energy Systems students Laura Hoffman-Ostenhof, Efflam Gueguen, Zie Chen Chua, Cheng Zhang, Sabrina Gao and Engineering Science DPhil students Alli Devlin and Han Ren, each gave presentations on their work.
Covering topics from multiple Industrial decarbonisation projects, hybrid energy system sizing, bus & light goods vehicle electrification and EV uptake analysis they showcased the world leading research that is going on in the department.
The presentations were:
Optimizing the utilisation of EV light goods vehicles for supermarket delivery services - Cheng Zhang and David Wallom
Investigating In-Route Energy Consumption Profiles of Battery-Electric Buses Using Open-Source Transportation Simulation - Yexuan Gao & David Wallom
Optimal sizing of solar photovoltaic and lithium battery storage to reduce grid electricity reliance in buildings - Han Ren, Malcolm McCulloch & David Wallom
Analysing the feasibility of industrial decarbonisation pathways through electrification and zero carbon fuel (ZCF) applications - Laura Hoffmann-Ostenhof, David Wallom & William David
Renewable microgrids covering the heat and electricity needs of industrial parks - Eflamm Gueguen, Maomao Hu & David Wallom
Net-zero steel pathways: industrial change requires industrial relocation - Alli Devlin & Aidong Yang
Professor David Wallom;
"Presenting the output from their MSc dissertations is the clearest way to demonstrate that the work done during the MSc is of the highest quality. Cheng, Eflamm, Laura, Sabrina and Zie flew the flag for the course at Europes leading energy efficiency conference, attracting excellent engagement from other participants for the hugely diverse topics they had covered during their research.
With many now already moved onto their next challenge this again highlights the benefits gained from our internationally leading course and the great opportunities available."
About the DPhil in Engineering Science and MSc in Energy Systems Programmes at University of Oxford
The DPhil in Engineering Science offers students the opportunity to develop in-depth knowledge, understanding and expertise in a chosen field of engineering research. Students develop broad skills in relevant areas of mathematical and computational modelling, in the design and build of apparatus, in the development of software, and in data analytics and visualisation.
The MSc in Energy Systems covers technical, societal and political aspects of this dynamic subject and provide students with an understanding of how to develop innovative solutions. The Course augments world-leading research from the Department of Engineering Science with contributions from the Departments of Physics, Materials Science, Chemistry and the School of Geography and the Environment.