19 Sep 2019
Undergraduate motor racing team aim to crack Formula for success
Students put engineering skills to the test at the annual Formula Student competition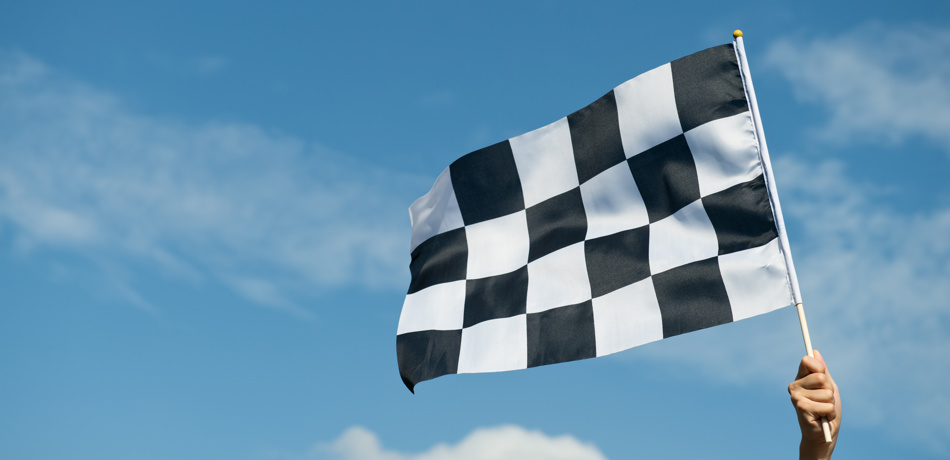 A team of Department undergraduates got on the right track when they put their Engineering skills to the test at the annual Formula Student competition.
Run by the Institution of Mechanical Engineers, Formula Student sees over 100 university teams from across the globe travel to the iconic Silverstone racecourse. The competitors take part in challenges which gave them a taste of what it's like to see their car designs competing in Formula Racing – from vehicle manufacture to business and costing.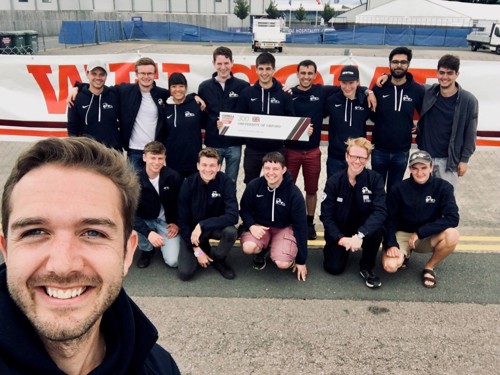 Dr. Neil Ashton, Senior Researcher at the Oxford Thermofluids Institute (pictured far left), led the team's efforts. Previously part of the Lotus Formula 1 team, where he was part of their aerodynamics department, Neil brings that experience to his role leading the Department's Formula Student team, Oxford University Racing.
He says: "As Oxford University Racing's Faculty Advisor, my job is to manage the team, making sure the students have the resources they need and advising them on project management and some key technical decisions. I also try to use my contacts to introduce them to industry figures who can give them advice - like Formula 1 teams and engineering companies".
The Oxford team were tasked with designing a prototype single-seat race car, which was presented to a panel of industry judges. Neil explains: "Alongside their designs, competitors are expected to bring parts they've designed and manufactured themselves. So we produced a gearbox casing, pedals for the drivers and examples of some of our electronics."
Presenting their concept, the team were quizzed on all aspects of their design approach and technical knowledge. They also had to defend their costings, demonstrating to the panel that they had considered all the potential pitfalls and carefully controlled their budget. "Finally," he says, "we participated in a business presentation. We pitched to the judges on why they should invest in our hypothetical company, explaining how we would set up the business, market the product and build the car for a commercial market."
Leo Panish, a third-year Engineering Science undergraduate, is one of the team's Technical Managers. He says: "Participating in the Formula Student competition this year was a fantastic experience. I have been working with this team since the end of my first year here and it has been a tremendous opportunity to learn about engineering in practice and to grow as a human being. Being able to finally take part in the competition was the culmination of all of our hard work over the last few years.
"What was particularly unique was the ability to interact with so many other students, all there because they love motorsport and wanted to participate in building something awesome! I also found that the judges were extremely helpful and encouraging, and participating in the events taught us so much about what we need to focus on for next year's competition when we bring our completed car."
Linh Pham Thi (also a third-year undergraduate), echoes Leo's sentiments. "It was an amazing experience to see all of the university teams with their cars. I personally learnt a lot, especially through talking to the other teams. As Team Manager, I was interested to see how the other teams managed their members, and how they dealt with team continuity and other common challenges. The other team managers shared a lot of stories and critical pieces of advice that will greatly help us in the coming years.
"Overall, I think the team's motivation level jumped due to seeing the scale of the competition and the quality of the cars there. We are extremely excited to take part in next year's competition - this time with a car!"
Competing in Formula Student for the first time, the Oxford team made a good showing, placing 13th out of 37 in the overall engineering category.
Neil says they have all learnt a great deal from the competition. "The team are super excited to take part in the Formula Student Class 1 Contest next year – which will see us actually building our prototype and testing it out on the track. The judges said they were very impressed that we did so well considering that it was our first year, and that they thought our design for next year was sensible and well thought-out."
Neil is keen to point out they did win one competition – the Mathsworks Pub Quiz: "All week, the teams were trying to get the highest score in a quiz on the Matlab numerical computing system. We won by a massive margin and the team were given two kegs of beer - perhaps the prize was the major motivation!"
You can learn more about the team at oxforduniracing.com and follow them on social media with the handle @oxforduniracing