03 Dec 2019
DPhil candidate named one of WeAreTechWomen's 'TechWomen100'
Communications Engineer Arta Cika chosen from shortlist of 200+ women in tech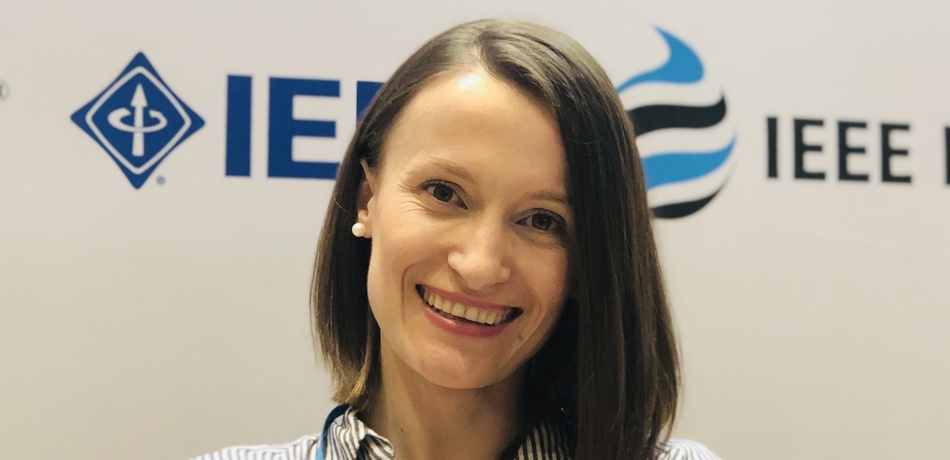 DPhil candidate Arta Cika has been named one of the 'TechWomen100' of 2019 by WeAreTechWomen from a shortlist of over 200 women working in technology.
WeAreTechWomen was founded in 2015 to help women working in technology to realise their potential, including creating the TechWomen100 awards to showcase remarkable women within the technology sector in a range of roles.
Arta is currently pursuing a DPhil in Communications Engineering under the supervision of Associate Professor Justin Coon. Her research focuses on modelling and analyzing mobile adhoc networks, self-organized networks without a fixed infrastructure characterized by a random and highly dynamic topology. These networks have multiple advantages compared to traditional ones, such as ease of deployment, low maintenance, and high flexibility. They are especially useful to provide wireless connectivity in the aftermath of a catastrophe, like a massive accident or earthquake.
She explains, "The aim of my research is to understand the evolution of the links in these networks and to quantify the underlying topological uncertainty. We use entropy-based methods to better understand the properties of these complex networks, and try to predict the frequent changes in the topology by taking full advantage of the correlation between the link current and future state. The final goal is to design link-state prediction-based routing algorithms. An efficient routing protocol is one which adapts to the frequently changing network topology. Therefore, the purpose is to exploit the concept of routing by predicting the states of the links and estimating the route stability using the entropy rate." 
"What I would like to say to all the young girls around the world is, don't consider STEM a 'man's profession'"
As well as her academic accomplishments, Arta is deeply involved with promoting women in STEM at the University. She is a committee member of the Department's Women in Engineering Society and takes part in the RisingWISE (Women in Science and Engineering) Programme. She is also involved in outreach activities with the Department aimed at encouraging young women to study engineering and enter the profession.
She says, "Winning this award made me reminisce about my own journey. I remember all the ups and downs, the sacrifices, and the hard work I put in day after day to get to where I am. In particular, my memory went back to my childhood, to the little girl who loved to play football on the streets of Kukes, a small town in the North of Albania. I would like to go back in time, meet this young lady and tell her 'Keep dreaming big. Nothing will stop you from reaching your goals'". She adds, "What I would like to say to all the young girls around the world is, don't consider STEM a 'man's profession' and don't miss an opportunity because it's not traditional. And, most importantly, push yourself out of your comfort zone, be confident, be inspired and inspire others."
"Push yourself out of your comfort zone, be confident, be inspired and inspire others"