25 Jun 2021
DPhil receives Zonta International Amelia Earhart Fellowship
The Fellowship, established in 1938, is a $10,000 USD prize awarded annually up to 35 women pursuing doctoral degrees in aerospace engineering and space sciences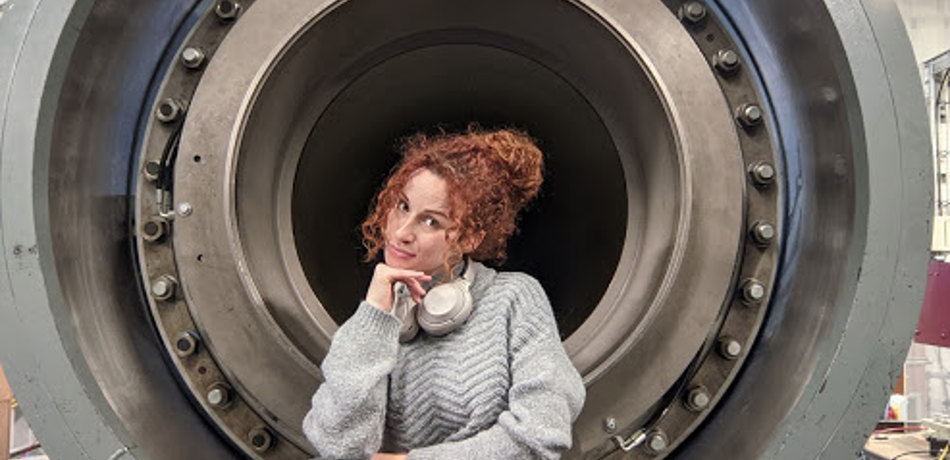 DPhil researcher Manuela Sisti (Oxford Thermofluids Institute) is one of the latest recipients of the Zonta International Amelia Earhart Fellowship, a $10,000 USD prize awarded annually up to 35 women pursuing doctoral degrees in aerospace engineering and space sciences. The fellowship was established in 1938 in honour of famed pilot Amelia Earhart for extraordinary women breaking barriers in aerospace.
"We are excited to welcome them into our community of Amelia Earhart (AE) Fellows and look forward to following their contributions to the fields of aerospace engineering and space sciences." 
Zonta international
Manuela's research field is turbine heat transfer. She works in collaboration with Rolls Royce under the supervision of Professor Kam Chana and Dr. Paul Beard, at the Oxford Thermofluids Institute.
Manuela works with the Oxford Turbine Research Facility group. This facility has always been at the forefront of engine-representative turbine research, and the aero-thermal measurements achieved over the years have been used to validate computational models making them more robust and reliable for engine design.
She says: "My goal is to design the most accurate infrared measurement system able to provide very high fidelity data without being intrusive. This is crucial to develop novel cooling concepts for jet engine turbine blades and ultimately more efficient and sustainable engines.
This research is incredibly innovative, as almost no studies applied infrared thermography to high speed targets. Despite the clear advantages of such technique, difficulties arise when taking these measurements. Working closely together with my supervisor and Dr. Chiara Falsetti, I identified all the possible sources of error, and studied the state of the art of infrared thermography. This resulted in the publication Infrared thermography and calibration techniques for gas turbine applications: A review (C. Falsetti, M. Sisti, P.F. Beard). I then presented the first results obtained using my own calibration method at the 14th European Turbomachinery Conference. I am now in the process of commissioning, and we will be soon starting testing. These measurements will be amongst the first of their kind.
My goal is to improve our understanding of high temperature effects in challenging environments. I aspire to make an important contribution to science and to develop a ground-breaking technique that will advance several engineering fields.
"Awards such as the Amelia Earhart Fellowship are a great way to highlight the contribution of female researchers and hopefully inspire other young girls and women to consider this career path"
I decided I wanted to become an engineer when I was 13, but I never would have imaged that I would be realising my dream to such extent. I am a researcher in one of the most important universities in the world and my research was recognised internationally with this prestigious award.
I dream of a world where women are as likely as men to choose to study and work in engineering. Though we are still far from this vision, awards such as the Amelia Earhart Fellowship are a great way to highlight the contribution of female researchers and hopefully inspire other young girls and women to consider this career path. It is challenging and exciting, and contributing to science is an incredibly rewarding experience."