23 Feb 2022
DPhil student receives prestigious award for Gas Turbine research
Tom Hickling's work on modelling heat transfer in jet engines is recognised by the American Society of Mechanical Engineers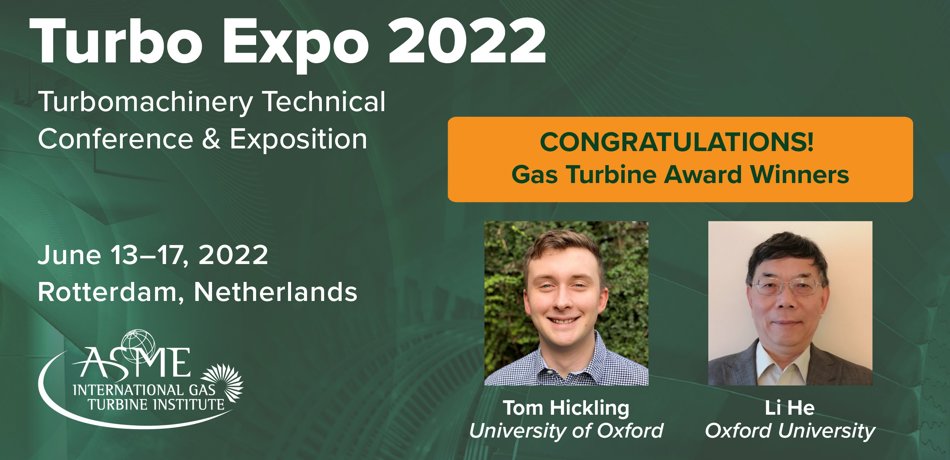 Engineering Science DPhil student Tom Hickling, of the Oxford Thermofluids Institute and Somerville College, has been awarded the 2020 American Society of Mechanical Engineers (ASME) Gas Turbine Award.
The ASME Gas Turbine Award, established in 1963, recognizes outstanding contributions in the literature of gas turbines. It is regarded as the most prestigious and most competitive ASME Award in the world of Turbomachinery for Power Generation and Aviation Propulsion. It is selected annually out of the best papers from about 1000 peer-reviewed papers presented in the primer ASME Turbo Expo Congress.
The last time, and only other occasion, when the award was won by a paper based on work carried out in Oxford was in 1985.
Of the award Hickling says, "I'm honoured to have won the award – it's great to have this recognition for our work from our peers."
The award is for a research paper based on his first year DPhil work, co-authored with his supervisor Professor Li He, Some Observations on the Computational Sensitivity of Rotating Cavity Flows. Professor He says, "The credit must go to Tom who has been such a great fast learner, thinker and doer who had applied critical analyses on some widely accepted conventional wisdom, and revealed to a great effect that certain conventional methods do have some serious flaws so far overlooked".
Hickling and He's work is to do with how the transfer of heat is simulated for jet engines, Hickling explains, "Due to thermal expansion, heat transfer in rotating cavities affects the clearance between moving and stationary components in jet engines – minimising the space between these components (without rubbing) is important for efficiency. We noticed that there wasn't really any agreement in the community on what methods to use to predict the heat transfer in these cavities, so we set out to reduce this confusion."
"In doing so, we were able to explain some counter-intuitive results and show that a popular method for reducing the cost of simulating fluid dynamics has some serious flaws  (that were previously overlooked)  when it is used for heat transfer."
Professor He adds, "In winning the ASME Gas Turbine Award with his 1st year DPhil effort, I reckon that he may well be unique among all past winners (with many renowned names in the field). So Oxford Engineering Science, as well as Somerville College, should be proud."     
Formal presentation of the award consists of a plaque and $1000 dollar honorarium to be divided between the authors. It will take place in July 2022 during the ASME Turbo Expo Turbomachinery Technical Conference & Exposition in Rotterdam, Netherlands.