24 May 2021
DPhil student wins award at international conference
Selena Milanovic receives the best presentation award for a second time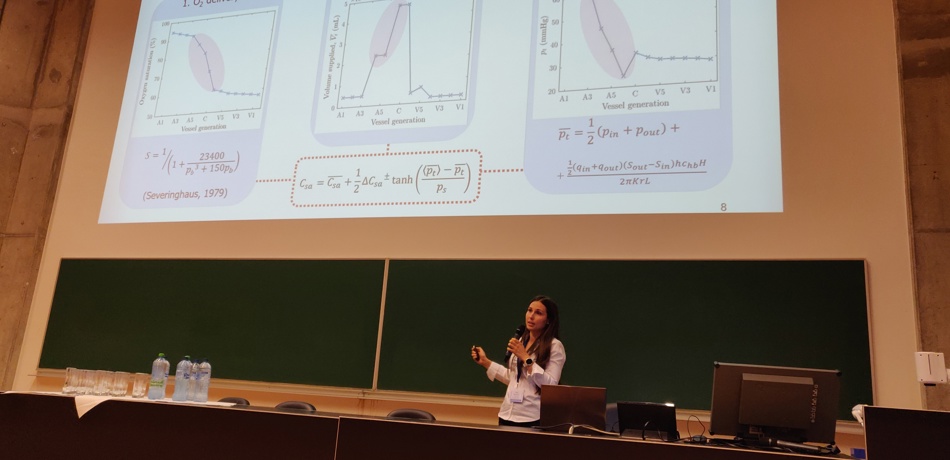 DPhil student Selena Milanovic won the best oral presentation award at the Cerebral Autoregulation Research Network (CARNet) online conference on April 22nd-24th 2021. The work she presented has recently been published in the Journal of Physiological Measurement, highlighting the essential role of a healthy brain microvasculature – i.e. the system of the smallest blood vessels within the brain.
Of the conference, Selena tells us "The unique aspect of the CARNet community is that all the researchers focus solely on human cerebral haemodynamics. Given that the translatability of animal data to the clinical setting is drastically low, particularly when it comes to the brain, there is a clear benefit of designing experiments and computational analysis directly for humans."
"The annual CARNet conference is therefore an international meeting where young and senior researchers share their most recent findings on brain metabolism and cerebral blood flow, aiming to elucidate the underlying physiological mechanisms that characterize brain degenerative diseases such as stroke and dementia."
Selena's DPhil research presents experimental and computational insights on the crucial role of pericyte cells in the brain. Pericyte cells regulate blood flow to the brain as they contract and control the diameter of capillary vessels which transport blood. They are found primarily within the capillary bed and play a fundamental role in the rapid regulation of cerebral blood flow which needs to be continuously adjusted during brain activity.
Selena tells us, "Dysfunctional pericyte cell activity has been found to lead to a cascade of events that lead to vessel stiffness and the wasting away of tissue, which are symptoms of brain degenerative diseases such as dementia and Alzheimer's"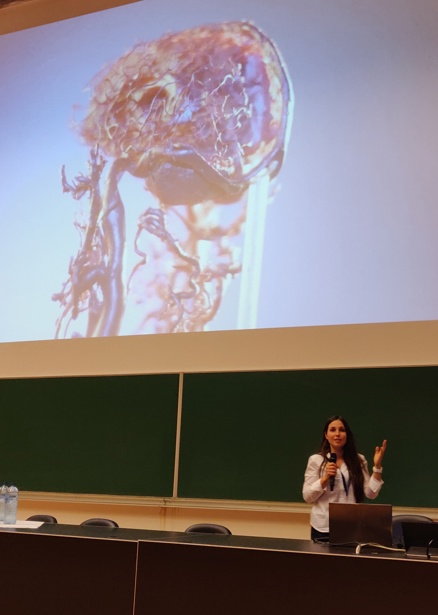 The Intracranial Pressure and Cerebral Autoregulation Research Network (CARNet) conference in 2019 in Belgium, where Selena also won the Best Presentation Award.
In recent years, computational tools used in biomedical engineering have recently been recognized by the FDA and the EMA as valid scientific evidence. Selena explains, "Particularly for the brain, where gaining insight non-invasively is very difficult, mathematical modelling has come to play a fundamental role in research. Brain degenerative diseases (e.g. Alzheimer's and dementia) have been found to originate in the microvascular bed, which can't be studied using imaging techniques as the resolution is too low."
In a time when brain degenerative diseases are the leading cause of disabilities and death, affecting over 300 M people worldwide, investigating the nature of the onset of brain degeneration is an imperative. Selena adds, "Every year, dementia costs the UK health and social sector about £ 12B, which is more than all cancer and cardiac patients combined (see Figure 1).

Economic burden and research funding for dementia, cancer and cardiac disease. Values reported in the 2018 State of the Nation Report of the UK Office of National Statistics.
Selena continues, "Strikingly, the resources spent on brain dementia research do not reflect the threat that they represent. Almost 89% of all research funds is invested in fighting cancer and cardiac disease, leaving brain degeneration research with a mere 11%. This dissonance between the social burden and research investment in brain degenerative diseases dictates the need for affordable yet impactful research techniques, such as computational modelling"