19 Oct 2022
IEEE "Early Career Award" for 2022 awarded to David Clifton
The prize, given to one engineer each year, recognises outstanding contributions in the field of biomedical engineering made by an individual within 12 years of their highest degree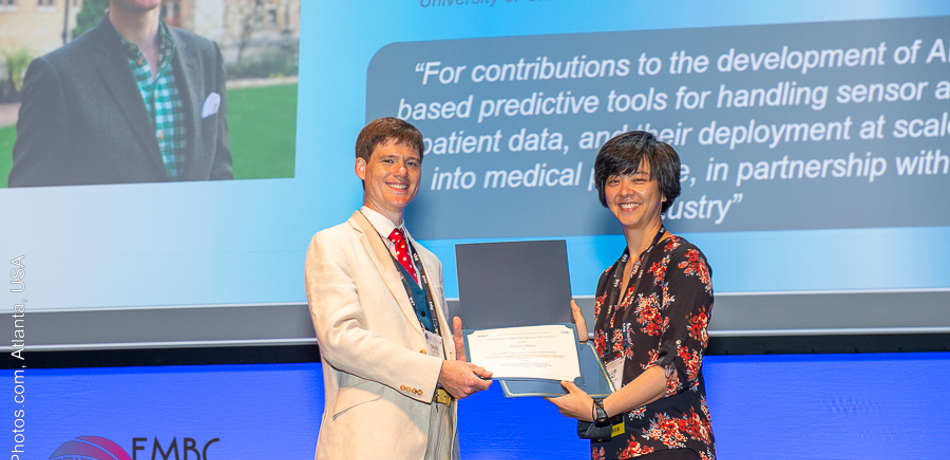 The IEEE "Early Career Award" for 2022 has been awarded to David Clifton, who received the prize during the annual Engineering in Medicine & Biology Conference. The IEEE is the "world's largest technical professional organisation", with over 400,000 members in 160 countries. This prize, given by the IEEE to one engineer each year, recognises "outstanding contributions in the field of biomedical engineering made by an individual within 12 years of their highest degree".
The award was made for Professor Clifton's contributions to the development of AI-based predictive tools for handling senor and patient data, and their deployment at scale into medical practice in partnership with industry.
David Clifton, Professor of Clinical Machine Learning in the Computational Health Informatics (CHI) Lab, at the Institute of Biomedical Engineering, said: "I am extremely grateful for the nomination, which represents a team effort with my students and postdocs since 2010. The IEEE has been a fantastic supporter throughout my career, from undergraduate to graduate, through postdoc and on to being a member of faculty."
He adds, "The integrated nature of the Department of Engineering Science at Oxford is invaluable, because it allows one to wear many hats: we can be 'machine learning researchers' presenting at NeurIPS one day, while the next day being 'biomedical engineers' within the IEEE. I'm especially grateful to the senior committee within the IEEE for this nomination, because it represents the real-world impact that engineering can have on the world – in my case, on producing AI-driven systems for helping patients and improving healthcare. For most researchers that join our team, their motivation is the promise of producing something that will make people's lives better."