01 Oct 2019
Professor Lionel Tarassenko receives Oxford Trust Outstanding Achievement Award
Leading expert in the application of signal processing and machine learning in healthcare given award for his contribution to biomedical engineering and innovations in healthcare technology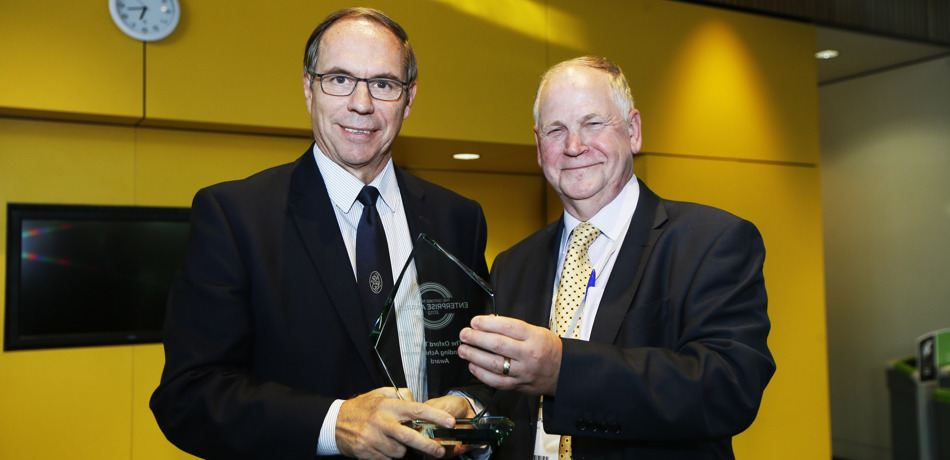 In a September ceremony attended by local entrepreneurs, innovators and science and technology industry, Professor Lionel Tarassenko (pictured above left) was presented with the Oxford Trust's Outstanding Achievement Award by their CEO Steve Burgess.
The Trust comments, "He was chosen by our Board for his contribution to biomedical engineering and translational innovation in healthcare and technology systems. His pioneering work in the clinical use of machine learning has had a huge influence not just on the development of e-health in Oxford but around the world".
Professor Lionel Tarassenko, who was Department Head from September 2014 to August 2019, is a world-leading expert in the application of signal processing and machine learning in healthcare, with a strong track record in translation to clinical medicine. His work has had a major impact on the identification of deterioration in acute care (the early-warning software which he designed for monitoring patients in critical care was the first product based on machine learning to be approved by the FDA) and on the self-management of long-term conditions using smartphone apps, for example the GDm-health app. This app allows pregnant women with gestational diabetes to monitor their own blood sugar levels and share the data with healthcare professionals. It was one of the first apps in the NHS Digital library of apps, and it is currently deployed in 14 NHS Acute Trusts.
Professor Tarassenko says: "It was a great honour to receive this award after Professor Sir Michael Brady (a former Head of this Department) in 2017 and Professor Sir John Bell in 2018. Over the last three decades, it has been a great privilege to work with brilliant research students and post-docs, as well as very dedicated business colleagues in the Oxford science parks".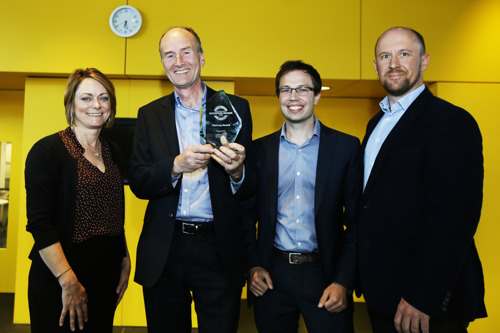 Engineering Science spinout Opsydia were also present at the event to receive the Oxford Trust Start-up Award. Opsydia spun out from the University in September 2017, based on the joint research of Professor Martin Booth (pictured far right) and Dr Patrick Salter.
The spinout creates practically invisible structures inside transparent materials by using ultra-fast laser technology, which can be used to help address diamond tampering and counterfeiting. In giving the award, the judges noted Opsydia's outstanding performance over the last 12 months in a number of aspects including commercial success, impact on society and clear plans for growth. Earlier this year Opsydia secured the first order for its Diamond Marking System from industry giant De Beers, following over a year of development work.
The Oxford Trust is an independent charitable trust established in 1985 by Oxford entrepreneurs Sir Martin and Audrey, Lady Wood, founders of Oxford Instruments. The Trust's mission is to encourage and facilitate the study, application and communication of science, technology, engineering and mathematics. The 2019 Enterprise Awards are run in partnership with Venturefest Oxford.
Images courtesy of The Oxford Trust