16 May 2023
Researcher awarded £1 million research grant to develop next-generation optical techniques for advanced biomedical imaging
Dr Chao He, Junior Research Fellow in Engineering Science, has received significant investment to lead research on novel vectorial optical imaging methods for biomedical/clinical applications such as early cancer detection and cancer staging.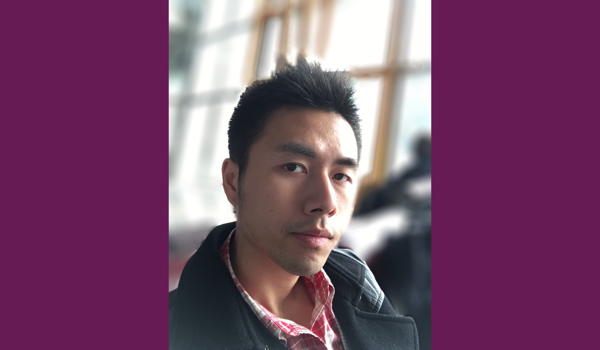 Many forms of cancer can be cured if detected early and treated effectively. Early detection, including screening and early diagnosis, as well as determining the stage and extent of the cancer staging, are extremely important. Pathological analysis provides the gold standard; for which optical imaging methods can guide and reveal vital information.
Dr Chao He's team in the Department of Engineering Science focuses on polarisation optics and its applications. In this project, the team will develop novel optical imaging techniques for pathological analysis and will work closely with leading researchers based both locally in Oxford, as well as internationally. At Oxford, the Dynamic Optics and Photonics (led by Professor Martin Booth) and the Soft Matter Photonics (led by Professors Stephen Morris and Steve Elston) research groups will provide support in terms of cutting-edge advanced microscopic and liquid crystal techniques, respectively.
"It is very exciting and a great honour to receive such an excellent grant, giving me the opportunity to conduct novel engineering-oriented research working towards optimised pathological imaging for cancer detection."
Dr Chao He completed his DPhil degree in the Department of Engineering Science at the University of Oxford inside just two years, 2018-2020, and then worked as a post-doctoral researcher, before obtaining a prestigious Stipendiary Junior Research Fellowship in Engineering at St John's College. He has co-supervised DPhil students, as well as giving tutorials to undergraduate students in the Department and the College. He has published more than 40 peer-reviewed scientific papers, including first- and corresponding- authored papers in Nature Communications, Light: Science & Applications, Optica, Advanced Photonics. He also serves as a reviewer for Nature Photonics, Light: Science & Applications, Optica, etc.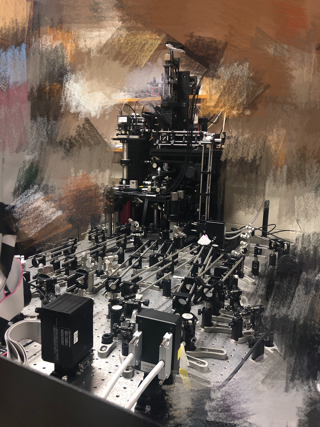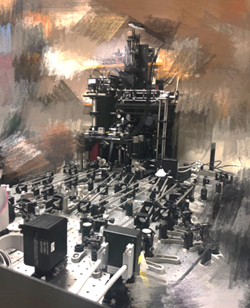 Complex optical system built by Dr Chao He from scratch
On receipt of this transformative research funding, Dr He states that 'It is very exciting and a great honour to receive such an excellent grant, giving me the opportunity to conduct novel engineering-oriented research working towards optimised pathological imaging for cancer detection. We will use these funds to hire postdoctoral research assistants and students who are interested in this area to follow our research journey. I am additionally delighted that, even at such an early stage, there is already commercial interest in our work, and we hope to develop these techniques to their full applied capacity, with the potential to benefit the global healthcare sector and society as a whole.'