Open Days 2022
Location
Thom Building, Oxford
Date & Time
Friday 16 Sep 2022 09.30 - Friday 16 Sep 2022 16.30
Availability
Please register to be kept up to date
Our next Open Day will be taking place on Friday 16 September 2022!
Join us from 09:30-16:30 when the Thom Building will open its doors to all prospective students. We will be hosting an open house where you can take a look into some of our teaching labs and see some demonstrations of the experiments our undergraduate students take part in on course. We will also be joined by some of our current undergraduate student ambassadors who will be around all day to answer questions as well as hosting their own Q&A session just for prospective undergraduates.
You can also chat to all of our undergraduate student ambassadors at any time online!
To give you an idea of what it is like to study Engineering Science at Oxford, we will be hosting several taster lectures throughout the day. The full programme will be announced closer to the time, but please see the timings for these lectures below.
Watch some of our previous taster lectures on our Virtual Open Day website.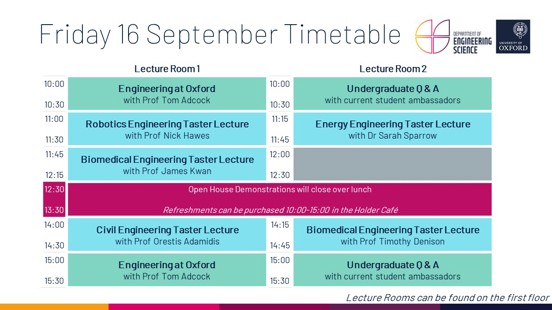 Come prepared!
We recommend that you check out our Virtual Open Day before coming to visit us in Oxford. You will find a lot of information about the course, applications, life at Oxford and so much more! Take a look around our website, write down any questions you still have and bring those with you when you visit Oxford. Alternatively, ask our undergraduate student ambassadors online right now!